Align Technology Focuses on International Market Strategy
International market strategy In 2Q17, Align Technology (ALGN) reported 85,400 Invisalign case shipments in international markets, which is YoY (year-over-year) growth of ~37.4% and sequential growth of ~13.6%. This growth was mainly attributed to new customers in the EMEA (Europe, the Middle East, and Africa) and Asia-Pacific markets. If Align Technology continues to demonstrate solid […]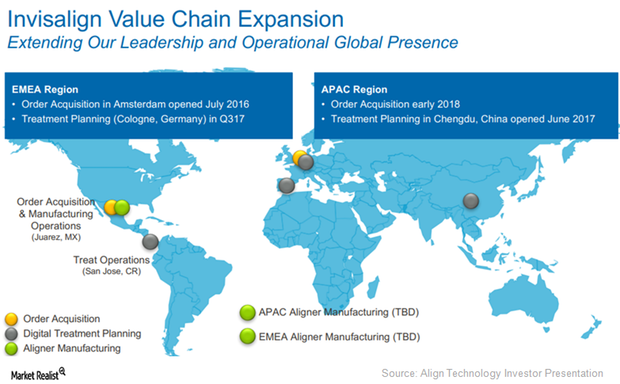 International market strategy
In 2Q17, Align Technology (ALGN) reported 85,400 Invisalign case shipments in international markets, which is YoY (year-over-year) growth of ~37.4% and sequential growth of ~13.6%. This growth was mainly attributed to new customers in the EMEA (Europe, the Middle East, and Africa) and Asia-Pacific markets.
If Align Technology continues to demonstrate solid demand in international markets in future quarters, the company's stock may benefit, as well as the Vanguard Mid-Cap ETF (VO). Align Technology comprises ~0.18% of VO.
Article continues below advertisement
Article continues below advertisement
Main regions
The above diagram provides a snapshot of Align Technology's worldwide manufacturing operations. In 2Q17, the company opened a treatment planning facility in Chengdu, China. Besides being a customer service center, this facility is also a training center. In 3Q17, Align Technology plans to open a treatment planning facility for EMEA customers in Germany. The comprehensive international market strategy is expected to enable Align Technology to compete effectively with other dental device players such as 3M (MMM), Danaher (DHR), and Dentsply Sirona (XRAY).
In EMEA, the company witnessed 33.2% YoY growth in Invisalign shipments, driven by exceptional demand in the five core European markets. Spain and the United Kingdom led EMEA markets in terms of Invisalign demand. Align Technology also witnessed a solid 50% YoY rise in Invisalign shipment volumes in expansion markets in 2Q17, mainly driven by demand in Central and Eastern Europe and Benelux. For more on Align Technology's EMEA strategy, read Understanding Align Technology's Growing Position in International Markets.
Invisalign shipment volumes rose 44.4% YoY in Asia-Pacific markets in 2Q17. This demand was mainly driven by Chinese markets, in which the company trained 1,000 new doctors on its Invisalign system in 2Q17. The company also saw exceptional performance in Southeast Asia, Japan, Australia, and New Zealand. To learn more about Align Technology's Asia-Pacific strategy, read Inside Align Technology's Market Expansion Strategy.