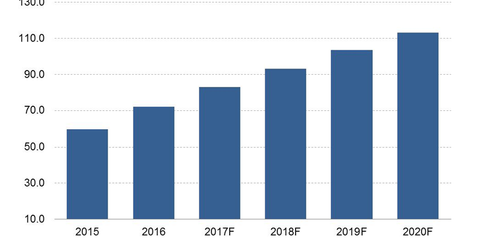 Advertiser Interest in Snapchat Seems to Be Fading
By Neha Gupta

Updated
Advertiser interest in Snap is fading
Snap (SNAP) plans to release its 2Q17 earnings results on August 10 during a time of heightened concern about its future. Although Snap officially describes itself as a camera company, the majority of its revenues come from digital advertising sources via Snapchat, its social media app. Snap is competing with Facebook (FB), Alphabet's (GOOGL) Google, Twitter (TWTR), and Verizon's (VZ) AOL and Yahoo for the attention of advertisers.
However, advertisers seem to be losing interest in Snapchat for a variety of reasons. According to CNBC, one of the reasons is that advertisers are not satisfied with Snap's measurement and reporting of its ad campaigns.
Article continues below advertisement
Content discoverability problem
Additionally, advertisers have expressed concern about content discoverability on Snapchat. Unlike Facebook's Instagram where it is easy for users to discover content, advertisers think that finding content on Snapchat is a little more complicated, which in turn makes advertising more complex.
The other problem hurting Snapchat is the outflow of celebrities from the platform. It seems that not many influencers are keen to build their profiles on Snapchat.
Snap was to benefit from a revolt against Facebook
These problems cited by advertisers threaten to inhibit Snap's growth. These developments also seem to be a reverse of what was expected to happen for Snap. Earlier this year, it appeared that smaller advertising platforms like Snap, Yelp (YELP), and AOL could benefit from marketers' revolt against the Facebook–Google duopoly in online advertising.
The US (SPY) online advertising industry is projected to grow, as shown in the chart above.