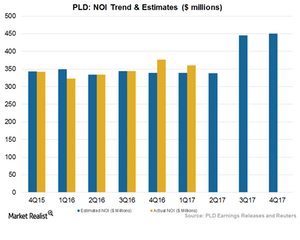 Will Vornado's Project Streamlining Drive Net Operating Income?
Net operating income expectations
Wall Street analysts expect Vornado Realty Trust (VNO) to report net operating income (or NOI) of $338.1 million in 2Q17. The company is scheduled to release its earnings on July 31, 2017. The NOI during the quarter is expected rise 1.3% year-over-year.
The expected year-over-year gain in NOI will likely be driven by an increase in the leasing of properties as well higher occupancy. Further, Vornado is streamlining its properties to shed off non-performing assets and focus more on income-generating properties, which could help in reducing costs and increasing the operating efficiency of the company.
Article continues below advertisement
Expenses expected to be higher
Furthermore, Vornado expects promotional expenses to be higher during the second quarter due to the huge number of development and expansion projects the company has undertaken in 1Q17.
Optimization of portfolio
Vornado has embarked on several strategic dispositions with the aim of streamlining its properties in order to optimize its profit. The company has sold non-core businesses to focus more on its core ventures.
In July 2017, Vornado disposed of JBG Smith, its Washington, D.C. segment. This business will merge with real estate company JBG Companies. The spin-off has successfully made the company a New-York-based REIT. Its offices and malls are now solely located in a Class A area where there is a high barrier to entry and high demand for land.
Article continues below advertisement
Apart from the sell-off of JBG Smith, Vornado also sold its 47% ownership interest in its Skyline properties located in Fairfax, Virginia. The company also sold off its 20% ownership interest in Fairfax Square for $15.5 million in 1Q17. These dispositions are expected to reduce costs in the upcoming quarters. Further, since high-quality office spaces are in high demand, the sales of these properties will likely fetch high returns for the company.
1Q17 performance
During the first quarter, Vornado reported same-store NOI growth of 11.5% to $359.94 million. Other peers in the same industry like AvalonBay Communities (AVB), Boston Properties (BXP), and Equity Residential (EQR) are expected to report NOI of $357.0 million, $399.56 million, and $410.1 million, respectively.
Vornado and its residential REIT peers together constitute 12.4% of the iShares Cohen & Steers REIT ETF (ICF). ICF's product diversity helps cushion investors against macro headwinds.