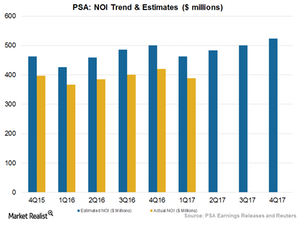 Will Public Storage's Cost-Reduction Initiatives Drive Higher NOI in 2Q17?
PSA's 2Q17, as expected
Wall Street analysts expect Public Storage (PSA) to report NOI (net operating income) of $483.7 million for 2Q17. The company is scheduled to release its earnings on July 27, 2017.
PSA's NOI for the quarter is expected to remain flat on a YoY (year-over-year) basis, however. Its NOI margin is expected to rise 810 bps (basis points) to 72.9%.
This upbeat margin has been driven by a spike in higher occupancy. PSA is also expected to witness higher margins in the US, as the region is expected to report a surge in occupancy.
Article continues below advertisement
Expenses expected to be higher
PSA expects its advertising and administrative expenses to be higher in 2Q17. The company also expects to incur higher repairing and maintenance costs at its existing facilities. These expenses are expected to offset the higher revenue growth and make for flat NOI in 2Q17.
Optimization of portfolio
In 1Q17, PSA undertook development and redevelopment activities, adding 475,000 square feet of net rentable space worth $88.9 million.
Projects including new self-storage spaces and the redevelopment of existing facilities worth $618.2 million have helped the company expand.
1Q17 performance
In 1Q17, PSA's same store NOI gained $21.1 million on the back of a $15.2-million rise in same store facilities and a $6-million increase in non-same store facilities. Los Angeles led the gain in NOI with a robust 7.5%. Shurgard Europe witnessed a gain in NOI of 4.8%.
Life Storage (LSI), Macerich (MAC), and Extra Space Storage (EXR) are expected to report NOIs of ~$87.7 million, ~$185.6 million, and ~$180.4, respectively. Public Storage and Extra Space together make up ~9% of the iShares Cohen & Steers REIT ETF (ICF).