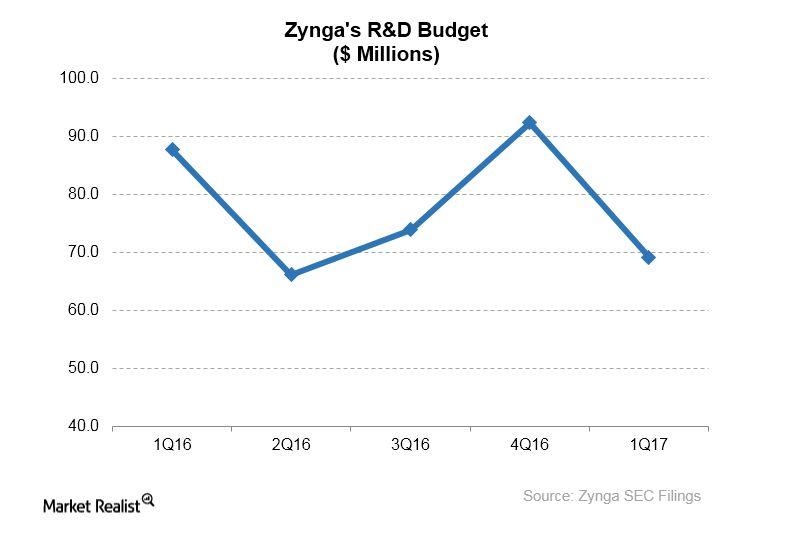 Why Zynga Is Prioritizing Its Research and Development Budget
Boosting the value of existing products
Zynga (ZNGA) funneled $69.2 million into R&D (research and development) in 1Q17. It turns out the company is tweaking how it spends its R&D budget.
According to Zynga's CFO, James Gerard Griffin, at a Cowen industry conference early this month, the company is trying to prioritize its R&D resources. The idea is to search for new revenue sources while squeezing the maximum value possible from the existing product line. Griffin revealed that Zynga's R&D department is allocating resources, which include talent, to boost the value of existing products as the search for new assets continues.
Article continues below advertisement
Paid features for Words With Friends
In boosting the value of existing products, Griffin said Zynga is testing a series of new features for its multiplayer game Words With Friends. According to Griffin, for a long time, Words With Friends hasn't had meaningful feature improvements, and Zynga is working on new features for the game that would enhance player engagement and sales.
Griffin hinted that the features coming to Words With Friends may be the premium type that attract charges. Words With Friends is largely free, and Zynga monetizes the game through advertising.
Besides Words With Friends, Zynga is also keen to maximize the value it generates from CSR.
R&D allocation
Though Zynga is talking about prioritizing R&D resources, a look at the past few quarters shows Zynga's R&D allocation has been on a decline, as the above chart shows. It remains to be seen how the company's R&D allocation changes as it executes on the three pillars of its turnaround plan.
Tackling competition