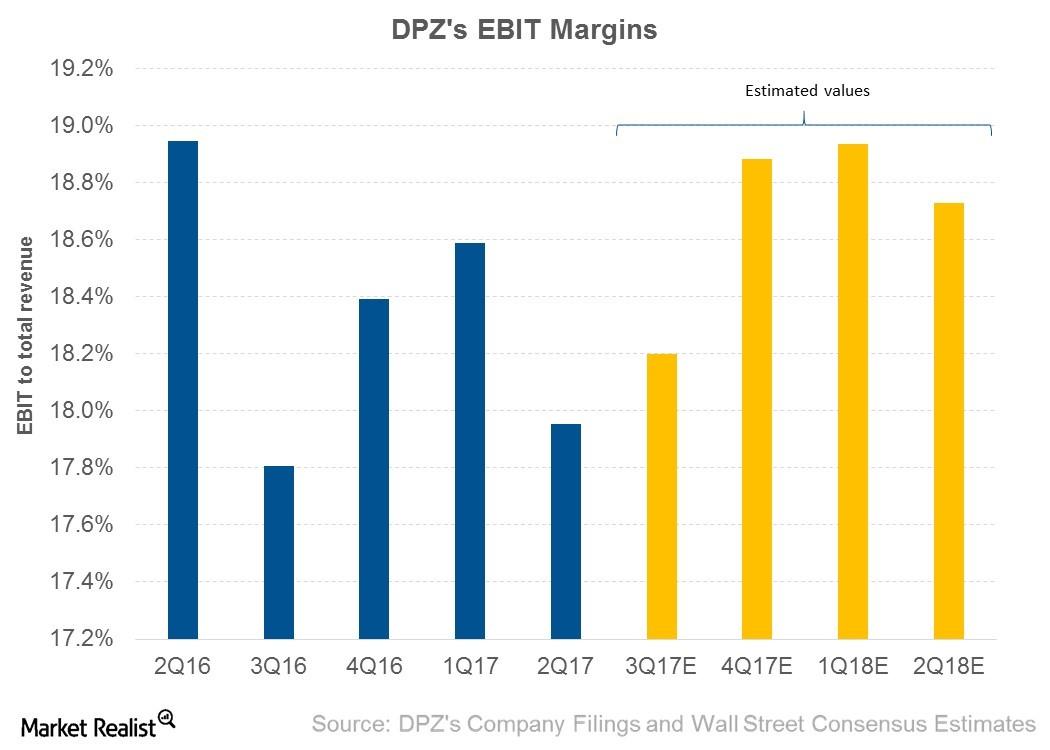 Why Did Domino's EBIT Margin Decline in 2Q17?
2Q17 performance
For 2Q17, Domino's Pizza (DPZ) posted EBIT (earnings before interest and tax) of $113.27 million, which represents an EBIT margin of 18.0%, compared with 18.9% in 2Q16. The company's EBIT margin fell due to a rise in its cost of sales and G&A (general and administrative) expenses.
For Domino's company-owned restaurants, the cost of sales rose due to higher insurance expenses, increased labor costs, and higher transaction-related expenses. However, some of the increase was offset by lower occupancy expenses due to the sales leverage from positive same-store sales growth.
The cost of sales for DPZ's supply chain was flat, with the benefits of favorable food costs and lower insurance costs being offset by increased labor and delivery expenses.
Article continues below advertisement
G&A expenses
G&A expenses rose from 12.4% in 2Q16 to 12.7%. Investments in the implementation of technological advancements, such as e-commerce and a point-of-sale system, have increased the company's G&A expenses.
However, some of these expenses will be offset by fees collected from franchisees. At the same time, the rise in advertising spending at company-owned restaurants boosted G&A expenses for the quarter.
Peer comparisons and outlook
For the same period, Yum! Brands (YUM) and Papa John's (PZZA) are expected to post EBIT margins of 28.6% and 8.7%, respectively. These companies posted EBIT margins of 15.4% and 8.7% in 2Q16, respectively.
Analysts are expecting DPZ to post an EBIT margin of 18.7% for the next four quarters, compared with 18.2% in the corresponding quarters of the past year.
Now let's look at Domino's 2Q17 EPS.