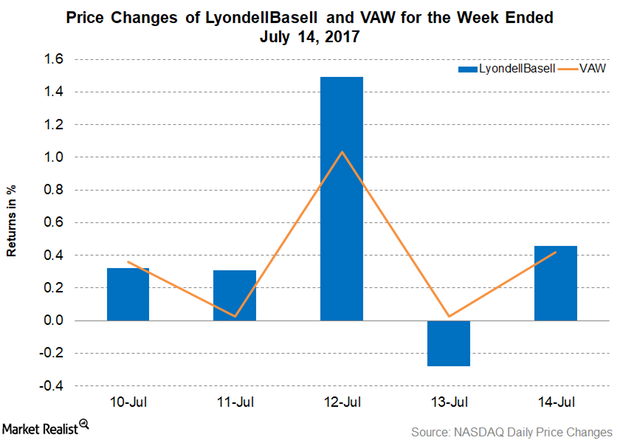 Who's LyondellBasell Cooking up a License Deal with Now?
LyondellBasell's new license deal
On July 12, 2017, LyondellBasell (LYB) granted its Spherizone and Lupotech T Licenses to Shaanxi Coal Yulin Energy and Chemical. Spherizone is the most advanced polypropylene technology and should help expand the company's product portfolio, while Lupotech T should provide a cost advantage.
This technology will be used in the Jingbian Chemical Industrial Park in Yulin City, China. The financial details of this transaction are still unknown.
Article continues below advertisement
This deal represents LyondellBasell's 14th grant of Spherizone technology since it was launched in 2006. LyondellBasell Executive Vice President Global Dan Coombs stated: "The Spherizone technology enables polypropylene producers to expand their business and capture additional value through product differentiation. Lupotech T is the clear market leader in high-pressure tubular LDPE technology offering low operating and investment costs to our customers."
LyondellBasell's stock performance
LyondellBasell gained 2.3% last week (ended July 14, 2017) and closed at $85.87. The gains in LYB's stock have helped it trade above its 100-day moving average, indicating a trend reversal in the stock. LYB has been trading below its 100-day moving average since April 5, 2017.
On a year-to-day basis, the stock has underperformed the market and gained a marginal 0.10%. LYB's RSI (relative strength index) of 65 indicates that the stock is neither overbought nor oversold.
Investors looking for exposure to LyondellBasell can invest in the Vanguard Materials ETF (VAW), which has 3.4% of its portfolio in LYB. The top holdings of the fund include Dow Chemical (DOW), DuPont (DD), and Monsanto (MON), with weights of 9.2%, 8.4%, and 5.9%, respectively, on July 14, 2017.