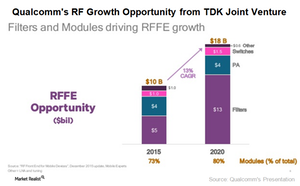 What's Qualcomm's Growth Strategy in the Radio Frequency Market?
TDK joint venture
Qualcomm (QCOM) is not only expanding its end markets, it's also expanding in related technologies in order to increase its semiconductor content per device. One important piece of this strategy is its RFFE (radio frequency front end) joint venture with Japanese (EWJ) electronics component manufacturer TDK, which specializes in RF filters and modules.
The joint venture company is called RF360 Holdings. It gives 360-degree exposure to all types of RF (radio frequency) technologies. This joint venture has increased Qualcomm's share in the front end market from 5% to 15%. The joint venture is developing more RF technologies, which should add more content per device.
Article continues below advertisement
RFEE opportunity
Qualcomm expects the RFFE market to grow at a CAGR (compound annual growth rate) of 13% to $18 billion between 2015 and 2020, with major growth coming from filters and modules.
Qualcomm started its RFFE journey by supplying trackers to PAs (power amplifier). It moved vertically in the supply chain and started supplying PAs. With its TDK joint venture, it's added filters, tuners, and switches to its portfolio. The joint venture has also developed module design technology, bringing every single RFFE product in-house.
New RF products
RF360 Holdings' new developments include Qualcomm's first GaAs (gallium arsenide) PA modules: QPA5460, QPA5461, QPA4360, and QPA4361. It's also developed the next-generation Qualcomm TruSignal antenna performance enhancement solution QAT35xx, which will use modem intelligence and system-level design and optimization to improve RF performance.
Qualcomm sampled GaAs PAs in 1H17 and secured design wins from five OEMs (original equipment manufacturer). The company also started developing a CMOS (complementary metal-oxide-semiconductor), but it halted the project because the product was low-end and didn't have attractive margins. QCOM's acquisition of NXP Semiconductors (NXPI) will further enhance its RF technologies.
As the world moves toward the implementation of 5G (fifth-generation) technology, RF content per device will likely increase, presenting QCOM with strong opportunities. Next, we'll see how Qualcomm plans to transition to 5G technology.