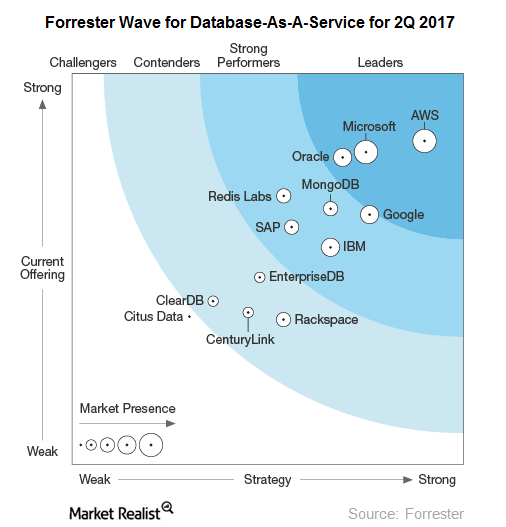 What Made Amazon a Leader in the DBaaS Space?
Amazon is a leading player in the DBaaS space
Earlier in this series, we discussed Oracle's (ORCL) Hardware segment, which is negatively impacted by a subdued server market. Despite this, Oracle dominates in the database space. However, this leadership doesn't apply to the DBaaS space.
It is Amazon (AMZN) and not Oracle that has witnessed the largest adoption of DBaaS, positioning the company at the top end of the leader's category. Amazon enjoys the same position in the overall cloud space. Amazon offers a comprehensive slate of products to support operational, analytical, and transactional workloads.
The chart below shows that apart from Amazon, Microsoft (MSFT) and Oracle made it to the leader's category.
Article continues below advertisement
Article continues below advertisement
Changing dynamics of the database space
As with the cloud space, Microsoft is trying hard to bridge the gap between itself and Amazon in the DBaaS space. It recently announced Cosmos DB, a database migration offering, to put its goal into effect. Cosmos DB enables data migration from on-premise infrastructure to Microsoft's Azure cloud.
Microsoft's Cosmos DB is expected to make conventional data migration easier. Although this bodes well for Microsoft, it is expected to have an adverse impact on Oracle's cash cow—its database business. In the recent past, Oracle's SQL-based database software made migration a costly and risky affair.
In a way, Oracle's clients were wedded to its databases, owing to their dependence on its database as well as the associated costs in shifting to another database. This gave Oracle an edge over its peers. This explains the company's ability to charge high prices, leading to the expansion in its margins.
With Amazon and Microsoft's strengthening presence in DBaaS, Oracle has to offer much more to its customers. As a result, Oracle's customers would be able to remain loyal to its databases and its DBaaS offerings.