What Lies Ahead for Public Storage in 2Q17
Analysts expect PSA to report adjusted FFO (funds from operation) of $2.40, compared with $2.54 in 2Q16.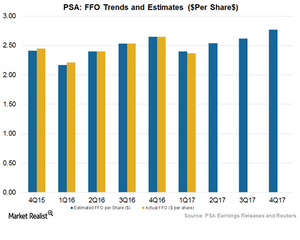 2Q17 as expected
Public Storage (PSA) is scheduled to report its second quarter fiscal 2017 earnings on July 27. 2017. Analysts expect the company to report adjusted FFO (funds from operation) of $2.40, compared with $2.54 in 2Q16.
This estimate is 0.3% lower than last year. Public Storage has maintained its occupancy level at the desired position, backed by the strategic capital deployment by way of expansion and development activities.
PSA has its properties located in key areas close to academic institutions, multi-family apartment units, and offices. But the company expects expenses to rise.
Article continues below advertisement
Article continues below advertisement
Macro factors are the key to growth
The new pro-American policies touted by President Trump have sparked a boom in US industrial activity, and the growing economy is expected to drive business momentum for PSA. As rents grow, people are also moving to smaller apartments, and they need more space for storage. This is expected to impact PSA's business positively.
The company is also expected to witness higher same store revenues in Europe, where it does business through its joint venture Shurgard Europe.
A strong start to 2017
PSA started 2017 on a strong note. Although its EPS (earnings per share) of $1.62 missed consensus estimates by 1.7%, it was still 16.5% higher than one year ago. This higher YoY (year-over-year) profit was driven by higher self-storage and net operating income. Lower foreign exchange translation losses and lower charges associated with the EITF (Emerging Issues Task Force) also helped earnings.
PSA's FFO came in higher than last year by 11.4%. Its results in 1Q17, however, missed analysts' expectations by 1.3%.
Life Storage (LSI), Macerich (MAC), and Extra Space Storage (EXR) are expected to report adjusted FFOs of $0.91, $1.05, and $1.33, respectively. Public Storage and Extra Space together make up 9% of the iShares Cohen & Steers REIT ETF (ICF).