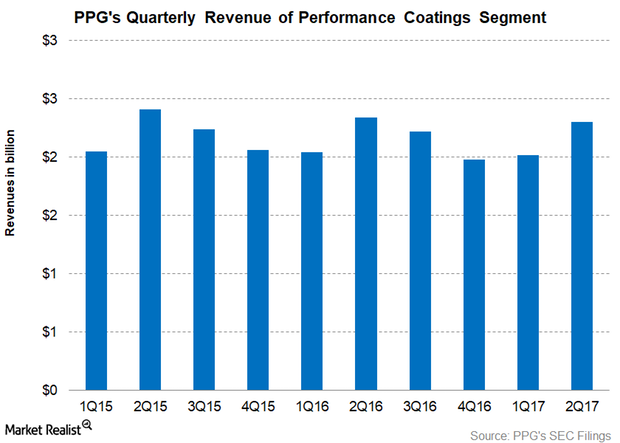 What Led to PPG's Performance Coatings Segment's Revenue Fall?
PPG Industries' Performance Coatings segment in 2Q17
PPG Industries' Performance Coatings segment is its largest revenue contributor. The segment's contribution to PPG's overall revenue fell from 61.8% in 2Q16 to 60.5% in 2Q17. The segment reported revenue of $2.3 billion, a fall of 1.6% on a year-over-year (or YoY) basis.
The segment's revenue fall can be primarily attributed to the fall in its volumes and unfavorable foreign currency hedges. However, rising prices helped to limit further falls in the segment's revenue.
The major setback for the segment came from lower volumes in its architectural business in Europe, the Middle East, and Africa (or EMEA), the Americas, and the Asia-Pacific. The marine coatings business continued to see weakness, while aerospace sales volumes rose marginally.
Article continues below advertisement
Net income and margin
The segment reported a net income of $413 million in 2Q17, compared to $428 million in 2Q16, a fall of 3.5% YoY. The fall in its net income was primarily the result of adverse currency impacts. The segment's rising raw materials costs and falling sales and net income have contracted its margin. In 2Q17, the segment reported a margin of 17.9%, compared to 18.3% in 2Q16, a fall of 40 basis points.
Segment's outlook
The bulk of the segment's revenue is generated by its architectural business. EMEA volumes are expected to grow, while in the United States and Canada, there could be growth in company-owned stores, but there could also be a fall in the channel business.
The marine coating business is expected to continue this falling trend. The aerospace business could witness moderate growth. The big positive for the Performance Coatings segment is that PPG expects no significant adverse currency effects due to the weakness in the US dollar.
Investors can hold PPG Industries by investing in the Vanguard Materials ETF (VAW), which invests 3.2% of its portfolio in PPG. The top holdings of the fund include Dow Chemical (DOW), DuPont (DD), and Monsanto (MON) with weights of 9.3%, 8.5%, and 5.9%, respectively, as of July 20, 2017.
In the next article, we'll look into the performance of PPG's Industrial Coatings segment in 2Q17.