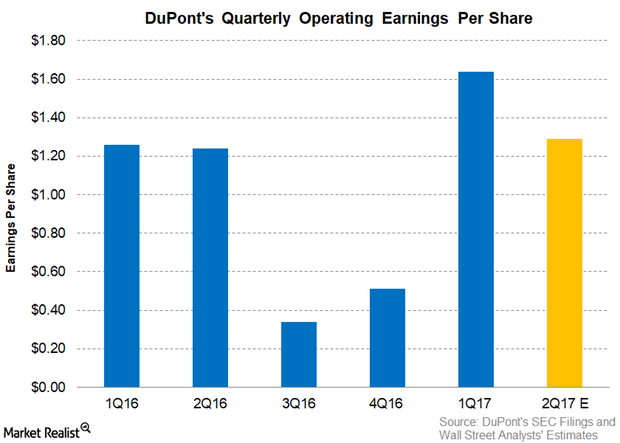 What Can We Expect for DuPont's Earnings per Share in 2Q17?
DuPont's earnings per share estimates for 2Q17
As of July 19, 2017, analysts expected DuPont (DDD) to post operating EPS (earnings per share) of $1.29, an increase of 4.0% YoY (year-over-year). In 2Q16, DuPont reported operating EPS of $1.24.
The forecast increase in DuPont's operating EPS is expected to be driven by improved SG&A (selling, general, and administrative) expenses. Analysts expect SG&A expenses of $1.1 billion, which is 15.8% of DuPont's expected revenue. In 2Q16, DuPont had SG&A expenses of $1.2 billion, representing 17.3% of sales. The SG&A expense estimate implies a decline of 150 basis points YoY.
On the other hand, additional charges of accelerated depreciation related to the closure of the Protection Solutions Cooper River manufacturing facility in La Porte is expected to be charged in 2Q17. As a result, DuPont's operating EPS could be limited.
Article continues below advertisement
Stock buyback
Most companies use share buybacks to improve their EPS. DuPont's board authorized buybacks of $4.0 billion in 2015, with distribution proceeds received from the Chemours (CC) spin-off. The board set December 2016 as a deadline to use the $4.0 billion. DuPont used $2.0 billion to repurchase 35 million shares. However, in 2016, DuPont could buy back only 13.2 million shares worth $916 million, primarily due to its planned merger with Dow Chemical (DOW). DuPont has not made any repurchases since then, and it appears there will be no repurchases until the merger is over. At the end of 1Q17, DuPont had approximately 871 million outstanding shares.
Investors looking for exposure to DuPont could invest in the Vanguard Materials ETF (VAW), which has invested 8.4% of its portfolio in DuPont. Monsanto (MON) made up 5.9% of the fund's portfolio as of July 19, 2017.