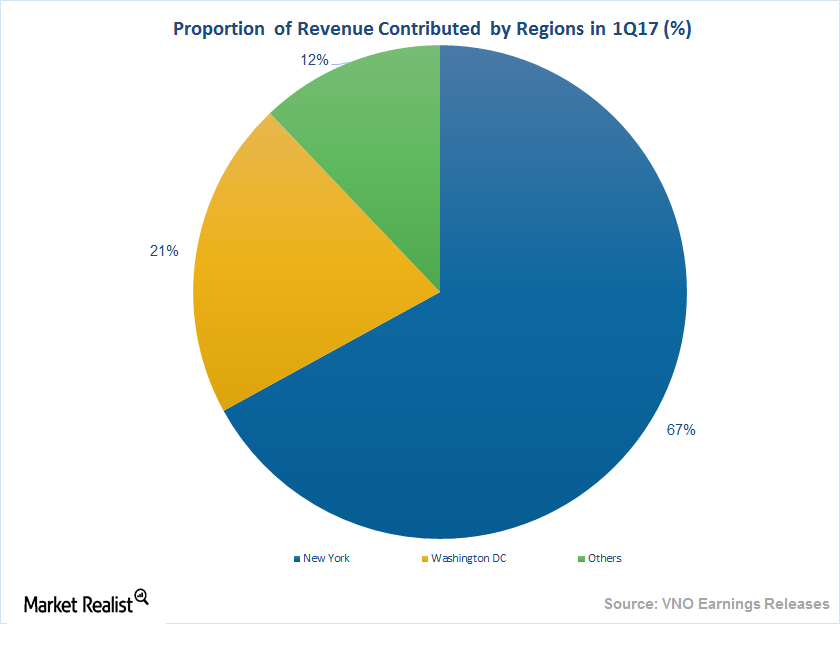 Vornado Realty Trust Works to Streamline Its Operations
Uncertainty surrounds commercial REITs
Commercial REITs like Vornado Realty Trust (VNO), Equity Residential (EQR), AvalonBay Communities (AVB), and Boston Properties (BXP) are currently in the doldrums. An increasing number of retailers are resorting to store closures, resulting in declining revenues due to dwindling store traffic.
More consumers are turning to online shopping because of its convenience. As a result, retailers reported declining revenues due to falling traffic. In order to maintain profits, these retailers are closing their stores, leaving vacancies in malls. When an anchor retailer exits a mall, mall owners can suffer a major loss in revenues.
In order to combat this difficulty, commercial REITs like Vornado Realty Trust (VNO) are shedding their non-performing properties and are concentrating on their core businesses. These REITs are focusing more on demographic locations, particularly the properties located in profitable Class A cities.
Vornado, Boston Properties, and Equity Residential comprise ~12.4% of the iShares Cohen & Steers REIT ETF (ICF). ICF's portfolio is broadly diversified and provides a cushion against industrial and macroeconomic headwinds and volatility.
Article continues below advertisement
Maintaining profitability by streamlining operations
As a part of this strategy, Vornado has decided to dispose of its non-core assets and instead focus on revenue-driving core properties with locational advantages. The company embarked on its policy of streamlining its operations in 2012 when Vornado started to sell off several of its enclosed malls and strip malls located in non-strategic areas.
Vornado Realty Trust (VNO) disposed of its 32.7% stake in Toys "R" Us and Urban Edge Properties as part of its strategy to concentrate on its core business.
In October 2016, Vornado approved the decision to spin off its Washington, D.C., segment and merge it with a Washington, D.C., real estate company, JBG Companies. The new company would act as a public company after the merger.
The spin-off would transform the company into an exclusively New York–based REIT. Its offices and malls would be located in a Class A area with a high barrier to entry and demand for land.
New York City is economically vibrant and is the center of development in the US. Vornado has limited retail exposure, which is mostly on street mall properties that are insulated from the ongoing retail headwinds.
The chart above shows the proportion of revenues contributed by New York, Washington, D.C., and properties held in other regions by the company.
Other dispositions
Apart from the proposed Washington, D.C., spin-off, Vornado also went ahead with several other dispositions in 2016. These dispositions include a sell-off of its 47% ownership interest in 7 West 34th Street; the Skyline properties located in Fairfax, Virginia; and a 20% ownership interest in Fairfax Square for $15.5 million.
Since there has been healthy demand for high-quality, stabilized office assets, VNO's recent sell-offs appear to be a good opportunity to make money from its non-core business.
In the next article, we'll see how Vornado maintains its occupancy levels through development and redevelopment of its properties.