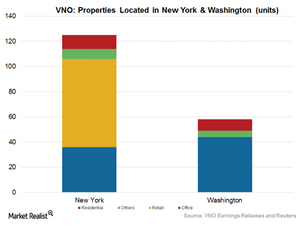 Vornado Realty Trust—Development, Redevelopment, and Occupancy
Strategic locations and redevelopment helps combat REIT headwinds
Vornado Realty Trust (VNO) undertakes development and redevelopment projects in order to maintain its leadership in the commercial REIT sector. The company has concentrated its properties in Class A cities that have high barriers to entry for competitors, as well as high demand for office space, malls, and other real estate properties.
Vornado leases out retail space, street malls, hotels, and office space in high-demand buildings in New York City in order to generate significant revenues.
Article continues below advertisement
Development projects
In 1Q17, Vornado undertook several development projects. VNO constructed a residential condominium tower on 220 Central Park South development site covering 397,000 saleable square feet. Vornado also invested in developing a high-demand office property in Highline at 512 West 22nd Street in Manhattan, which covers 173,000 square feet.
Vornado also developed a 170,000-square-foot office and retail building at 61 Ninth Avenue, located on the southwest corner of Ninth Avenue and 15th Street in the West Chelsea submarket of Manhattan.
In 2016, Vornado dismantled two office properties situated in adjacent buildings in order to redevelop them into a new 335,000-square-foot office building. Vornado competes with Boston Properties (BXP) and Equity Residential (EQR) in the REIT space.
Vornado formed a joint venture with Related Companies in September 2016 in order to redevelop the historic Farley Post Office building. The joint venture, designated by New York State, would remodel the building into a Moynihan Train Hall and 850,000 rentable square feet of office space and ancillary train hall retail space.
Vornado, Boston Properties, and Equity Residential comprise ~12.4% of the iShares Cohen & Steers REIT ETF (ICF). ICF's portfolio is broadly diversified and provides a cushion against industrial and macroeconomic headwinds and volatility.
Vornado's strategy of remodeling its real estate properties into office spaces and condominium towers are expected to be beneficial for the company, as the current situation in commercial REITs is not conducive to investing in malls.
As more consumers turn to online shopping, US malls are struggling to stay alive. Hence, it would be difficult for Vornado to compete with REITs like Simon Property Group (SPG) and General Growth Properties (GGP), which operate only as mall owners.
Although these REITs undertake several strategic initiatives to combat headwinds within their industry, they are not immune to macroeconomic events like interest rate hikes. In the next article, we'll see how these REITs handle the Fed interest rate hike in the upcoming months.