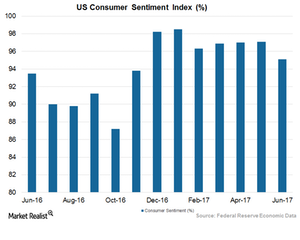 Vornado amid the Economic Transition under President Trump
Interest rate rises amid low inflation
Amid uncertainties about the impact of the Fed's repeated interest rate hikes on REITs, investors seem to be jittery about putting their money in the sector. The central bank has hiked interest rates three times in the last six months, which was in line with market expectations.
However, the boom of a growing economy comes with increasing interest rates. The pro-America policies under the newly elected President Trump have raised confidence in the business sector and some citizens about their economic well-being.
Let's find out how the changing economic scenario could be a blessing in disguise for commercial REITs like Vornado Realty Trust (VNO), Equity Residential (EQR), Boston Properties (BXP), and AvalonBay Communities (AVB).
Vornado, Boston Properties, and Equity Residential make up ~12.4% of the iShares Cohen & Steers REIT ETF (ICF). ICF's portfolio is broadly diversified and provides a cushion against industrial and macroeconomic headwinds and volatility.
Article continues below advertisement
Growing economy
The "Buy American, Hire American" call raised by President Trump has triggered confidence among some citizens. Slow but steady growth in employment and generally lower gas prices have increased household spending power.
According to the Institute for Supply Management, there has been a spike in US factory activity in June 2017, indicating economic growth in the second quarter.
According to the University of Michigan, the June 2017 consumer sentiment index gained 1.7% year-over-year, standing at 95.1%. However, it was 2.1% lower than the May 2017 index results.
This trend could be attributed to the fact that consumers had become less optimistic about the future. However, slow but steady job growth, higher disposable income, and increasing wealth have provided a buffer against the rising fear of uncertainty among consumers.
Higher consumption boosts revenues for REITs
In a scenario of steady job growth, the demand for office space could increase, directly benefiting REITs like Vornado Realty Trust (VNO). Moreover, Vornado's properties are located in Class A cities like Manhattan, which is the epicenter of the corporate world. This is expected to boost revenue growth for the company in the future.
Commercial REIT to boom in a growing economy
Vornado's enclosed malls and street malls are also expected to witness a surge of activity amid growing optimism among consumers. This optimism has translated into higher discretionary spending, triggering more frequent mall visits by consumers. This could also boost the company's commercial REIT business.
Next, let's see how Vornado Realty Trust (VNO) rewards its shareholders.