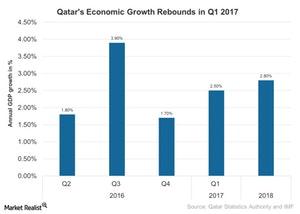 Understanding Qatar's Resilience amid Sanctions
Qatar's economy
Qatar's (QAT) economy continued to grow in 1Q17 amid improved oil (USO) (UCO) prices since 2Q16. But more recently, oil prices have hit a downtrend, given the increased global oil supply, and Qatar has felt the impact. The recent economic and diplomatic sanctions on Qatar have also raised the risk of slower economic growth in 2017.
Still, Qatar's economy rose 2.5% on a YoY (year-over-year) basis in 1Q17, compared with its 1.7% expansion in 4Q16. The expansion in 1Q17, of course, came before the sanctions imposed on the country in June 2017, and we should see the economic impact of these sanctions—if any—when we get the 2Q16 results.
Article continues below advertisement
Qatar's GDP growth in 1Q17
Qatar's output increased at a faster pace in construction and financial activities in 1Q17. The construction sector grew 15.7%, compared with 14% in 4Q16. Financial and insurance activities grew 10.1%, compared with 6.8% in 4Q16, but wholesale, retail trade, real estate, and the government sector activity all declined in 1Q17.
The sectors that remained stagnant overall included mining, quarrying, and manufacturing. The mining sector grew 1% in 1Q17, compared with the previous quarter. Meanwhile, the manufacturing sector fell 0.6% sequentially in 1Q17.
The impact of the Qatar crisis
Recently, the rating agencies including Moody's and S&P have changed Qatar's outlook to negative, mainly due to the diplomatic dispute among Persian Gulf nations (GULF). These ratings appear to have affected Qatar's sovereign credit fundamentals, and the cost of borrowing has now sharply increased for Qatar as of July 2017.
Expectations
Qatar's GDP growth is projected to be 3.4% and 2.8% in 2017 and 2018, respectively, according to the April 2017 IMF (International Monetary Fund) report. Still, Qatar's economy is showing resilience amid this crisis, with its recent announcement of increased production of natural gas, from 77 million tons to 100 million tons per year by 2024, according to Al Jazeera.
Notably, large energy companies including Royal Dutch Shell (RDSA), ExxonMobil (XOM), and Total (TOT) are optimistic about partnerships with the Qatar government related to this expansion.