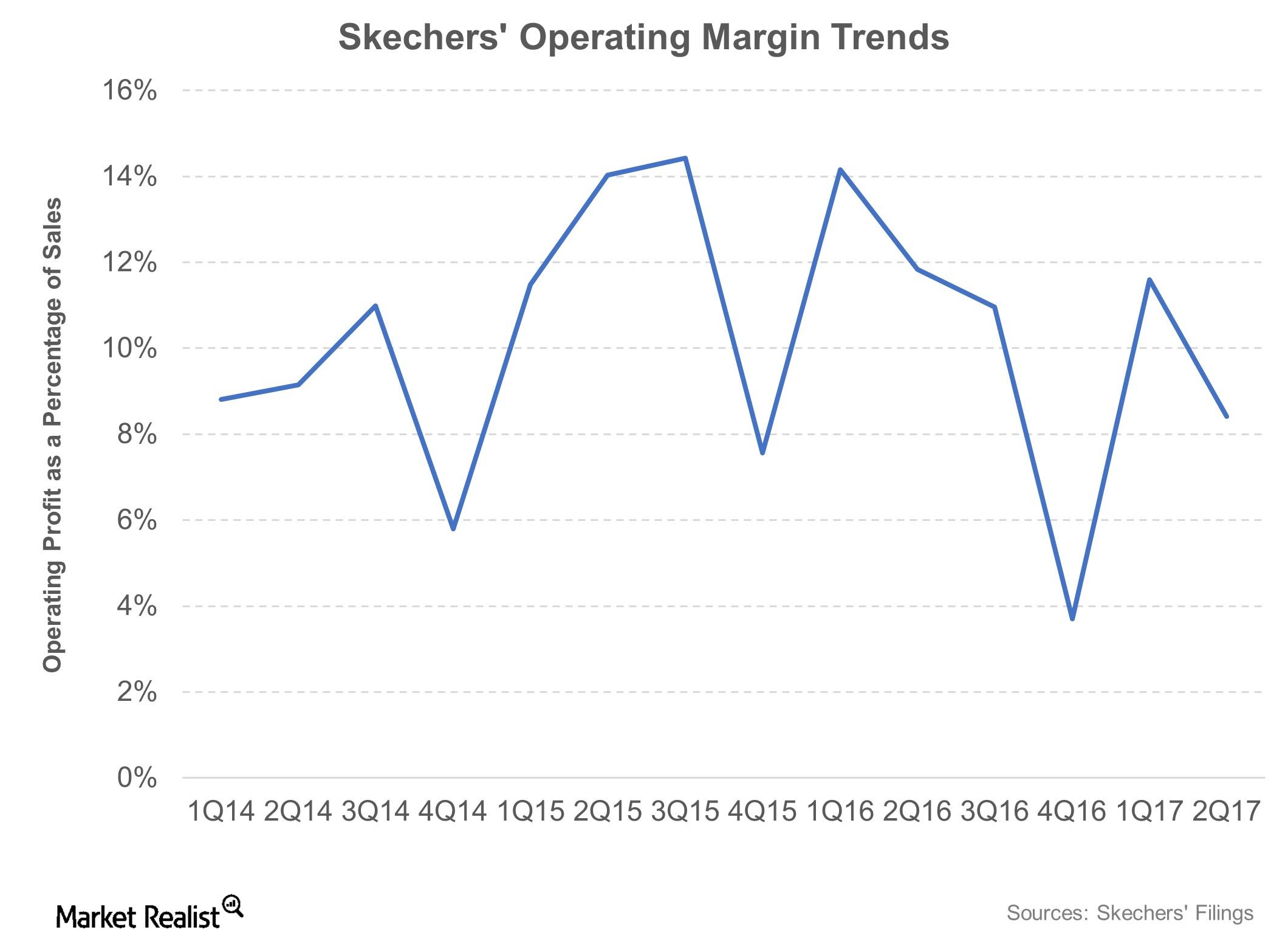 Skechers Reports Its Fifth Straight Fall in Earnings in 2Q17
Discussing 2Q17 bottom line performance
Skechers (SKX), which released its 2Q17 results on July 20, 2017, reported EPS (earnings per share) of $0.38. The company missed analysts' consensus expectation by a margin of $0.06.
Its EPS fell 24% during the quarter, driven by a rise in selling, general, and administrative expenses. This was the fifth consecutive quarterly earnings fall for the footwear manufacturer.
Article continues below advertisement
What's behind the rise in SKX's 2Q17 expenses?
Skechers's 2Q17 selling expenses rose 100 basis points to 9.7% of its sales, primarily due to its higher advertising expenses and a rise in its selling commissions.
The company's general and administrative expenses rose 210 basis points to 29.8% of its sales as it continued to expand and focus on its long-term global growth target. As a result, its operating margin fell 343 basis points to 8.4% of its sales during the quarter.
Peer comparison
Rival Nike (NKE), reported a ~22.4% YoY rise in its quarterly EPS to $0.60 in the quarter, outperforming Wall Street's expectations. Its higher earnings were driven by a rise in its revenue, a fall in its selling and administrative expenses, a lower tax rate, and a fall in its average share count.
Under Armour (UAA), however, reported a net income of -$2 million, or $1 per share. The company, however, bested analysts' expectations of -$0.04 per share.
Looking forward
Skechers's management expects its earnings to rise in the 0%–12% range in 3Q17. Its EPS are expected to lie between $0.42 and $0.47 during the quarter. However, this estimate is lower than what analysts expect. On average, analysts expect EPS of $0.56 for Skechers in 3Q17.
Investors seeking to add exposure to SKX can consider the iShares Morningstar Small-Cap ETF (IJK), which invests ~0.4% of its holdings in the company.