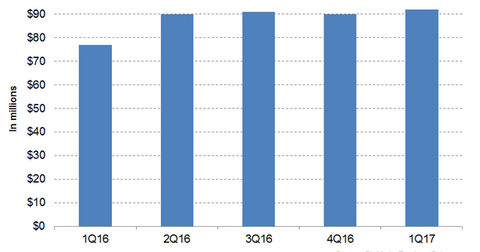 Kuvan Could Boost BioMarin's Revenue Growth in 2017
By Daniel Collins

Updated
Kuvan revenue trends
In 2016, BioMarin Pharmaceuticals' (BMRN) Kuvan reported revenues of around $348 million, a ~45% year-over-year (or YoY) increase. Kuvan contributed to ~31% of the company's total revenues. The growth in international product sales after the acquisition of Merck's (MRK) phenylketonuria business and the increasing number of new patients in the US initiating therapy with Kuvan contributed to the drug's high revenue growth rate in 2016.
Article continues below advertisement
In 1Q17, Kuvan generated revenues of around $92 million, which reflected a ~19% YoY growth and ~2% quarter-over-quarter growth. In the US, Kuvan witnessed ~8% gains in commercial patients. Kuvan has been granted patent exclusivity in the European Union market until 2024. In April 2017, BioMarin Pharmaceuticals gained market exclusivity in the US for Kuvan until October 2020 after the settlement with Par Pharmaceuticals related to the drug's patent. BioMarin Pharmaceuticals' peers in the orphan drugs market include Genzyme, Amgen (AMGN), Celgene, Alexion Pharmaceuticals, Vertex Pharmaceuticals, and others.
Growth in Kuvan's sales may boost the PowerShares QQQ (QQQ). BioMarin Pharmaceuticals accounts for 0.24% of QQQ's total portfolio holdings. The above graph characterizes the revenue trajectory of Kuvan from 1Q16 to 1Q17.
About Kuvan
Kuvan (sapropterin hydrochloride) is a phenylalanine hydroxylase activator and the first drug indicated for the treatment of patients with Phenylketonuria (or PKU). The drug reduces the phenylalanine levels in the blood in patients with hyperphenylalaninemia (or HPA).
PKU is a genetic metabolic disorder. It's estimated that PKU has an incidence rate of one in every 15,000 births in the US. Turkey is said to have the highest documented PKU rate in the world with an incidence rate of one in 2,600 births. Infant PKU patients are given Lofenalac, an infant formula, which was initially developed by Mead Johnson Nutrition Company (MJN).