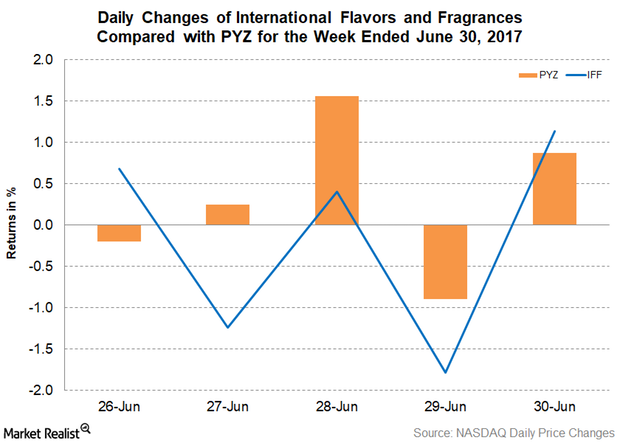 International Flavors and Fragrances Launches New Company
IFF fell 0.8% for the week ended June 30, 2017, and closed at $135.00.
IFF launches new company
On June 26, International Flavors and Fragrances (IFF) launched a new company, Tastepoint by IFF. Devid Michael and Ottens Flavors merged to form the new company. The major objective of the company is to cater to middle-market customers in North America and improve the company's market share. However, IFF didn't specify the financial details in regards to the new company.
Andreas Fibig, IFF's CEO, said, "The creation of Tastepoint by IFF marks the achievement of another milestone in our Vision 2020 strategy– to win where we compete as we grow market share in North America. Tastepoint's employees are truly passionate and committed to serving their customers in this exciting space, where I expect them to continue to provide industry-leading service to our customers."
Article continues below advertisement
Article continues below advertisement
Looking into IFF's stock performance last week
IFF fell 0.8% for the week ended June 30, 2017, and closed at $135.00. Despite a decline in the stock price, IFF managed to trade 2.7% above the 100-day moving average price of $131.48, indicating an upward trend in the stock. On a year-to-date basis, the stock has risen 15.7%. Analysts predict IFF's 12-month target to be at $138.38, a potential return of 2.5% over the June 30 closing price of $135.00. IFF's 14-day RSI (relative strength index) indicates that the stock is neither overbought nor oversold.
On the other hand, the PowerShares DWA Basic Materials Momentum Portfolio (PYZ) rose 1.6% for the same period and outperformed IFF. PYZ invests 2.3% of its portfolio in IFF. The top holdings of the fund include FMC (FMC), Chemours (CC), and Air Products and Chemicals (APD), which have weights of 5.1%, 4.9%, and 3.9%, respectively, as of June 30, 2017.