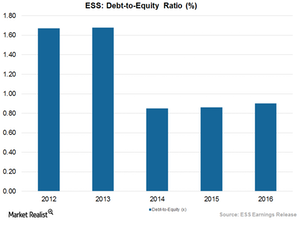 How Well Does Essex Property Manage Its Balance Sheet?
Debt leverage is important for REITs
In order to function as real estate investment trusts (or REIT), companies such as Essex Property Trust (ESS) have to pay almost 90% of their taxable income out as dividends.
REITs depend on debt financing to fund their shareholder returns and working capital. They also require funds for expansion as well as the development and redevelopment of their properties. However, too much dependence on debt results in unmanageable interest costs. For this reason, it's very important for REITs to leverage their balance sheets optimally.
Article continues below advertisement
Debt-to-equity ratio
Essex Property (ESS) has been able to maintain a low debt-to-equity ratio in the last five years. The company reported a debt-to-equity ratio of 0.89x in 1Q17. The industry's median debt-to-equity ratio is 1.07x.
The chart above shows the trend in ESS's debt-to-equity ratio over the past five years. Essex Property's total debt-to-total equity is 89.8%. Its major peers AvalonBay Communities (AVB), Equity Residential (EQR), and UDR (UDR) have total debt-to-total equity ratios of 69.1%, 87.9%, and 110%, respectively.
The iShares Residential Real Estate Capped ETF (REZ) has a market cap–weighted index with a wide product portfolio that includes industries such as healthcare, self-storage, and residential REITs. REZ has a net asset value of $65.82.
Average interest rates
Essex Property's weighted average interest rate on its fixed rate unsecured private placement bonds was 3.6% in 2016, the same as in 2015. However, the weighted average interest rate on its variable rate term loan was 2.3%, compared to 2.4% in 2015. On the other hand, the weighted average interest rate on its lines of credit was 1.8%, compared to 1.9% in 2015.
As of December 31, 2016, ESS's total debt was $1.6 million, compared to $1.5 million in 2015. Its interest expense, however, rose to $0.46 million, compared to $0.44 million in 2015.
In the next part of this series, we'll examine Essex Property's valuation in comparison to its peers'.