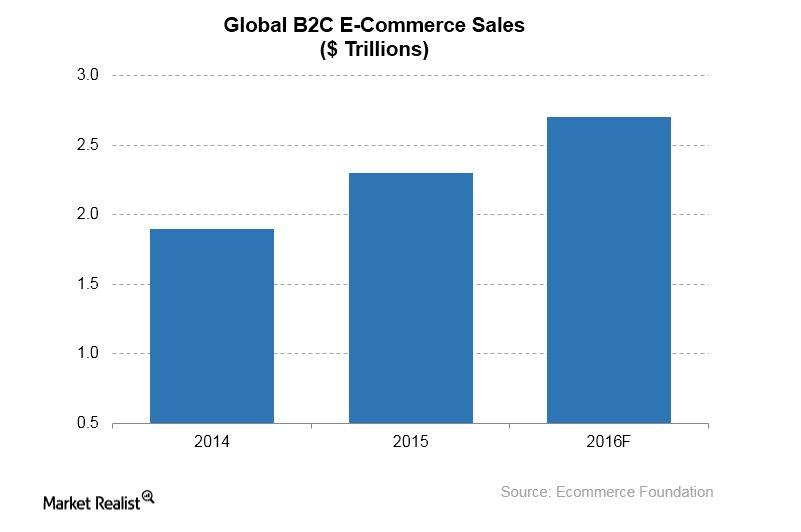 How PayPal Won Alibaba's Business
Helping AliExpress grow abroad
PayPal (PYPL) has partnered with AliExpress, a marketplace owned by Alibaba (BABA). PayPal is helping merchants on AliExpress accept payment from international consumers.
Winning over AliExpress appears to be a milestone for PayPal, considering that Alibaba has a payment service called Alipay. Alibaba's payment affiliate, Ant Financial, runs Alipay. Ant Financial is in the process of acquiring US (SPY) electronic money transfer provider MoneyGram (MGI).
Article continues below advertisement
PayPal's CEO, Daniel Schulman, recently shared the details of winning the seemingly crucial AliExpress business. Speaking at the Sanford C. Bernstein Strategic Decision Conference in June, Schulman said that AliExpress sees tremendous opportunity to accelerate its international growth by working closely with PayPal.
Marketplaces seek to ride on PayPal's platform
PayPal's massive user base and extensive international penetration are attracting marketplace operators that seek to expand their international footprints. PayPal is regularly used by more than 190 million consumers, and the service is available in more than 200 countries.
With this, PayPal emerges as the kind of platform that AliExpress merchants need to grow outside China. These merchants seek to take advantage of rapidly expanding cross-border B2C (business-to-consumer) e-commerce market, as shown in the chart above.
PayPal needs more marketplace partnerships
Schulman compared the integration with AliExpress to the partnership PayPal has with Google, an Alphabet (GOOGL) company. Through the partnership, Google could try to recruit advertisers among PayPal's more than 16 million merchant customers.
As retail shifts to the Internet, marketplace collaborations become more important for PayPal to grow its sales. In addition to its integration with AliExpress, PayPal is seeking more Alibaba business and eventually to win over Amazon (AMZN).