Development Projects Helps Essex Property Combat REIT Headwinds
Amid the shifting residential REIT scenario, Essex Property Trust (ESS) has been able to maintain its dominant position.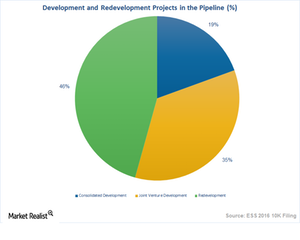 Development and redevelopment helps maintain share in industry
Amid the shifting residential REIT (real estate investment trust) scenario, Essex Property Trust (ESS) has been able to maintain its dominant position. The main strategy that helped the company to do so was its streamlining of its portfolio into an optimal structure that generates and maintains its premium standard through its development and redevelopment projects.
The company has concentrated its properties in Class A cities with high barriers to entry for competitors and high demand for office spaces, malls, and other real estate properties.
Article continues below advertisement
Article continues below advertisement
Essex Property has properties located mainly in the Los Angeles, Orange, San Diego, and Ventura counties regions of Southern California, the San Francisco Bay area of Northern California, and the Seattle Metropolitan area. On March 31, 2017, Essex had ownership in 246 apartment communities made up of ~60,000 apartment homes.
Development projects
In 1Q17, Essex Property undertook several development projects of new community constructions. Its projects in the pipeline as of March 31, 2017, included two wholly-owned consolidated projects under development and three joint-venture projects amounting to a total of 1,968 apartment homes worth $0.7 billion.
Essex also undertook several redevelopment projects, targeting additional returns in its pre-existing units, in 1Q17. During the period, Essex undertook seven major redevelopment projects worth $177.1 million and consisting of 2,269 apartment homes.
Although REITs such as Essex Property, AvalonBay Communities (AVB), Equity Residential (EQR), and UDR (UDR) undertake several strategic initiatives to combat headwinds within the industry, they're not immune to macroeconomic events such as interest rate hikes.
The iShares Residential Real Estate Capped ETF (REZ) has a market cap–weighted index that has a wide product portfolio covering industries such as healthcare, self-storage, and residential REITs. Investors looking for exposure to the REIT space may want to look at REZ, which provides a cushion against volatility.
In the next article, we'll see how REITs could handle potential interest rate hikes in the coming months.