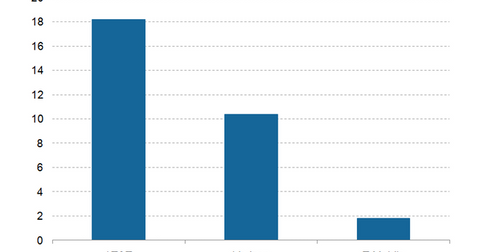 Chart in Focus: A Look at Verizon's 5G Plans
By Ambrish Shah

Updated
Verizon's 5G strategy
Many wireless carriers are currently opting for 5G (fifth-generation) technology for network reliability and higher speeds. Unlike 4G, 5G doesn't need towers. Instead, it uses small cell networks that can be mounted on street lights, utility poles, and other locations on public property. Verizon (VZ) is currently working on its 5G initiative with Cisco (CSCO), Ericsson (ERIC), Intel (INTC), Samsung (SSNLF), and Nokia (NOK).
Article continues below advertisement
Verizon is planning to conduct fixed wireless 5G trials in 11 markets across the United States this year. As a result, the carrier will have a better view on 5G towards the end of 2017, which will dictate capex plans going forward. However, Verizon's management noted that the cost to deploy small cells would be much lower than the cost to deploy a FiOS-like build. With its fiber build plans and millimeter wave spectrum depth, Verizon anticipates it will maintain the 5G lead.
AT&T and 5G
Verizon is facing tough competition from AT&T (T) in the 5G space. Historically, AT&T has tried to outbid rivals to strengthen its spectrum position. For example, earlier in 2015, AT&T purchased spectrum worth $18.2 billion becoming the highest bidder during the AWS-3 spectrum auction. As the graph above shows, during the same event, T-Mobile (TMUS) and Verizon purchased spectrum worth $1.8 billion and $10.4 billion, respectively.