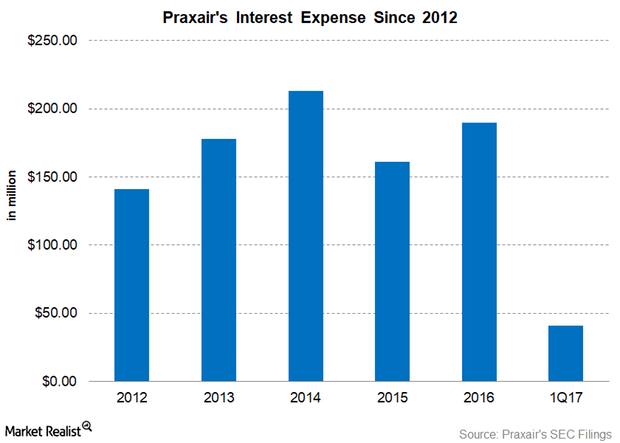 Can Praxair Manage Its Interest Expense?
Praxair's interest expense
Praxair's (PX) interest expense has been on an upward trend since 2012 when its debt grew. However, after 2015, PX's interest expense has remained volatile. In 2012, its interest expense was $141.0 million and grew to $178.0 million in 2013 and $213.0 million in 2014 due to an increase in the company's debt during that period.
However, in 2015, PX's debt declined in interest expenses primarily due to the early redemption of notes in 2014. Praxair also capitalized a certain portion of interest, which resulted in the reduction of interest expenses. Then in 2016, the interest expense rose despite its debt remaining more or less constant, primarily due to $16.0 million of charges on early redemption of notes and an increase in interest rates. In fiscal 2017, Praxair has incurred $41.0 million in interest expense just in 1Q17. If it maintains this rate for the entire year, its interest expense will be lower than 2016, which will boost its net income.
Article continues below advertisement
Praxair's interest coverage ratio
Interest coverage ratio tells the company's ability to service its debt. That can be determined by dividing its EBIT (earnings before interest and tax) by its interest expense. A higher multiple is preferred since it indicates a company's comfort to service its debt.
At the end of 1Q17, Praxair's interest coverage ratio stood at 14.20x, while its peer Air Products & Chemicals (APD) had an interest coverage ratio of 14.30x. Although PX's interest coverage ratio is marginally lower than APD's, it can still service its debt comfortably.
You can indirectly hold Praxair by investing in the Vanguard Materials ETF (VAW), which has invested 4.5% of its portfolio in Praxair. The top holdings of the fund include Dow Chemical (DOW) and DuPont (DD) with weights of 9.0% and 8.3%, respectively, as of July 5, 2017.
In the next part, we'll look at Praxair's latest analyst recommendations.