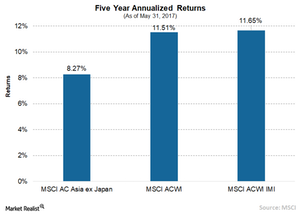 An Asian Rally Will Likely Hinge on This
By Matthews Asia

Jul. 24 2017, Updated 3:05 p.m. ET
Matthews Asia
These are all reasons to be concerned. The reason I often hear people give for their market-related concerns, however, is the simple fact that markets have risen a lot. It's as if they fear a force of gravity will pull the markets down. I would be cautious about trading too much on this rationale. First, markets in Asia have been in the doldrums for years now so a rally is not that surprising. Second, valuations, whilst somewhat above average relative to Asia's own history, are still reasonable in global terms. Third, the markets do appear to have the tailwind of better corporate earnings growth than the analyst community had expected, and this growth ought to be sustainable for quite some time as China's economic policymakers have been successful in generating moderate inflation, which is helping corporate profits.
Article continues below advertisement
Market Realist
Decent economic recovery pushing up earnings growth
Although Asian markets have outperformed many other regions this year, their performance over the past few years has remained sluggish overall. Asian markets, as represented by the MSCI AC Asia Ex-Japan Index, have risen a mere 8.27% in the past five years, compared with the 11.51% gain seen by the MSCI ACWI and the 11.65% rise seen by the MSCI ACWI IMI. More recent economic recovery has helped Asian stocks post stellar gains in 2017.
Reasonable valuations
Despite the more recent sharp rise, Asian equities (AAXJ) (AIA) are still trading at reasonable valuations. The MSCI AC Asia Ex-Japan Index is trading at one year forward PE (price-to-earnings ratio of 13.0x), compared with the MSCI ACWI's 16.0x and the MSCI ACWI IMI's 16.2x.
In terms of PB (price-to-book) multiple, the MSCI AC Asia Ex-Japan Index is cheaper at 1.64x, compared with the MSCI ACWI IMI's 2.17x and the MSCI ACWI's 2.22x.
Resilient earnings growth
Many Asian companies reported robust earnings growth in 1Q17. According to Pictet, almost 70% of the companies on Japan's (EWJ) (DXJ) TOPIX 500 (Tokyo Price Index) reported earnings above expectations, compared with just 40% in 4Q15. Profits for listed Chinese (FXI) companies rose 21% in 1Q17 on a year-over-year basis, according to the date from Industrial Securities Company.
Earnings for companies in MSCI Asia Ex-Japan are expected to rise 13.9% in 2017, while TOPIX is expected to see growth of 12%.