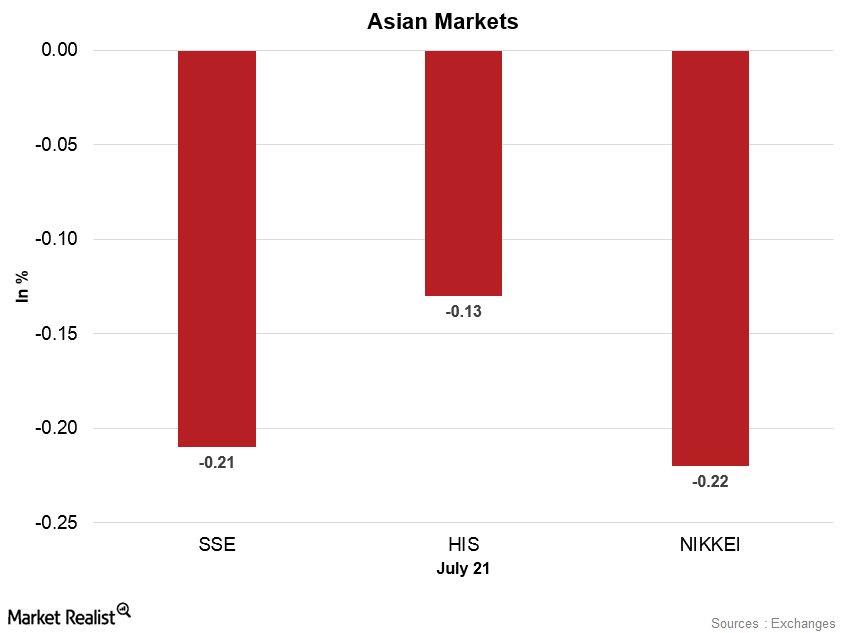 Asian Markets Pulled Back amid Dented Market Sentiment
China
China's Shanghai Composite Index started this week on a weaker note by falling to almost three-week low price levels on Monday. However, the market regained strength as the week progressed amid improved market sentiment. It gained for three consecutive trading days until Thursday.
On Friday, the market opened lower and closed the day with a loss but closed the week in profits. The increased demand for blue-chip stocks pushed the China blue-chip index to 1.5-year high levels. Better-than-expected economic data such as second quarter GDP data, retail sales, and industrial production released at the beginning of the week increased the buying of blue-chip stocks. The decreased risk appetite amid tighter regulations and liquidity concerns made investors shift to blue-chip stocks from small-cap stocks this week.
On July 21, the Shanghai Composite Index fell 0.21% and ended the day at 3,237.98. The SPDR S&P China ETF (GXC) fell 0.34% to $95.12 on July 20.
Article continues below advertisement
Hong Kong
Hong Kong's Hang Seng Index gained in all of the trading days last week and opened this week on a stronger note. After trading with subdued momentum for two days, the Hang Seng Index regained strength and rose to two-year high price levels. On Friday, the Hang Seng Index pulled back and broke its nine-day gaining streak. The expectation of upbeat second quarter corporate earnings, an increased inflow of funds from mainland China, and improved sentiment on Wall Street were the main reasons behind the rally in the Hang Seng Index this week.
The Hang Seng Index fell 0.13% and closed the day at 26,706.09. The iShares MSCI Hong Kong ETF (EWH) rose 0.25% to $23.9 on July 20.
Japan
After regaining strength on Wednesday and closing above 20,000, Japan's Nikkei Index rose to ten-day high price levels on Thursday. The improved risk appetite around the globe amid stronger-than-expected second quarter earnings helped the Nikkei Index regain strength this week. On Friday, the Nikkei Index opened lower and closed with a loss amid decreased momentum in Asian markets. Nikkei fell 0.22% and closed the day at 20,099.75.
In the next part, we'll discuss how European markets performed in the morning session on July 21.