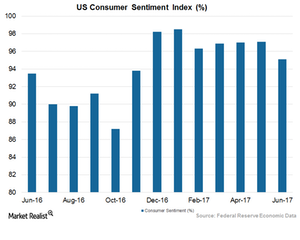 Are Trump and the Rate Hike Blessings in Disguise for ESS?
By Jennifer Mathews

Updated
Growing economy, low inflation, high interest
Although the inflation rate is below its target level of 2%, the rising GDP in the United States has prompted the Federal Reserve to raise the interest rate for the third time in the last six months.
The economy is buzzing under the pro-American policy embarked upon by President Donald Trump. His calls to "make America great again" and to buy American have instilled confidence among Americans about growth in the economy.
Article continues below advertisement
Pro-American policies a boon
US presidential policies have placed great importance upon improving the job scenario in the country. This goal has resulted in slow but steady job growth. Lower gas prices and the country's rising GDP have also resulted in rising optimism among consumers. According to the results released by the University of Michigan in June 2017, the Consumer Sentiment Index rose 1.7% year-over-year to 95.1%.
However, the index was 2.1% lower than its May 2017 level. The recent fall could be attributed to the fact that some consumers have become doubtful about the future of the economy. However, this uncertainty has been offset by signs of growth such as low unemployment and higher disposable consumer income.
Effect on residential REITs
Rising optimism among citizens bodes well for REITs (real estate investment trust) such as Essex Property Trust (ESS) AvalonBay Communities (AVB), Equity Residential (EQR), and UDR (UDR). As the job scenario improves, the demand for office spaces should rise. Moreover, since REITs are repositioning their portfolios in major Class A cities, their office properties are expected to experience higher occupancy levels in the near future.
The iShares Residential Real Estate Capped ETF (REZ) may be of interest to risk-averse investors. REZ includes some of the REITs listed above and provides a cushion against volatility.
Lower taxes trigger demand for apartments
The less-stringent tax environment under the new president has enabled lenders to become more liberal in terms of their underwriting standards. Further, tax regulations such as the pullback of the child care tax allow taxpayers to deduct higher amounts for child care expenses from their income taxes, increasing their disposable incomes.
In the next article, we'll discuss ESS's shareholder returns.