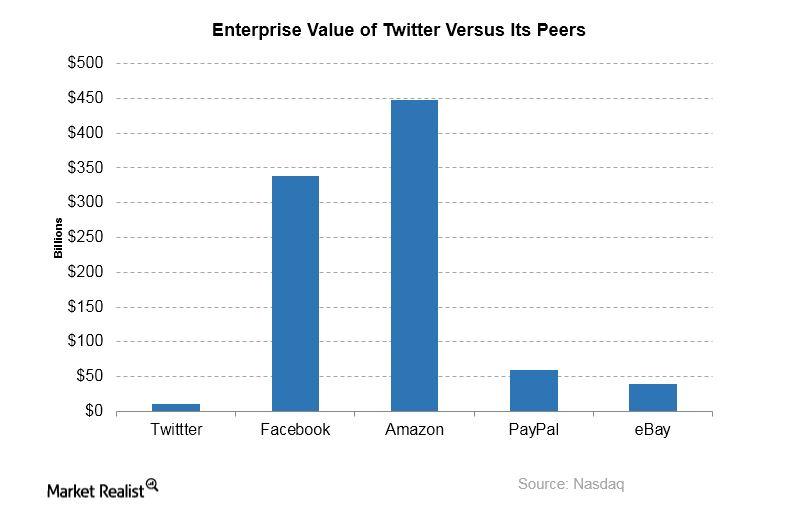 Analyzing Twitter's Latest Stock Performance
Deciphering Twitter's comprehensive valuation
Twitter's EV-to-adjusted EBITDA (enterprise value to adjusted earnings before interested, tax, depreciation, and amortization) for the trailing 12 months is 68.1x. The EV-to-estimated EBITDA for this year is 17.3x.
The EV-to-sales for the trailing 12 months is 4.7x, while the EV-to-sales expected next year is 4.4x.
Twitter's trailing-12-month EV-to-cash inflow and trailing 12-month EV-to-free cash inflow are 13.5x and 17.9x, respectively.
Article continues below advertisement
Earnings and sales
The company reported EPS (earnings per share) of -$0.65, while EPS for 2017 is forecast at ~$0.33.
The EPS for last year came on total sales of $2.5 billion, which grew 4% annually. Sales for 2017 are expected to expand to ~$2.3 billion this year and ~$2.4 billion next year.
Inside Twitter's price metrics
With a book value per share of ~$6.5, Twitter is trading at a price-to-book value of 2.8x. The estimated book value per share of the stock is ~$6.4.
Twitter's price-to-sales ratio is 5.3x, while its estimated price-to-sales ratio is 5.6x.
Dissecting Twitter's debt situation
The company has short-term debt of $80 million and long-term debt of $1,638 million, which put its total debt at $1,799 million. Considering that it has total capital of $6,409 million, its total debt-to-total capital ratio comes in at 27%.
It has debt-to-equity, debt-to-assets, and debt-to-EBITDA ratios of 36.6, 0.25, and 10.8, respectively. Another important ratio, EBIT on interest, measures how easily a company can pay interest on outstanding debt. It's also known as the interest coverage ratio. Twitter's stands at -10.24x. Debt on the enterprise value of the company is 16%.