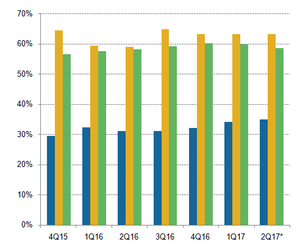 AMD's Strategy to Improve Its Gross Margin
By Puja Tayal

Updated
AMD's 2016 gross margin
In the previous part of this series, we saw that Advanced Micro Devices (AMD) is looking to increase its exposure in the Premium Product segment in order to increase market share and improve profits. Until 2016, AMD earned most of its revenues from mid-level and low-end products. As a result, its gross margin hovered at ~31%, and Intel's (INTC) and NVIDIA's (NVDA) gross margins hovered around 60%.
Article continues below advertisement
AMD's 2017 gross margin
AMD improved its gross margin from 32% in fiscal 1Q16 to 34% in fiscal 1Q17. The company's gross margin is expected to increase slightly in fiscal 2Q17, as the quarter would include sales of its premium Ryzen 7 CPUs, which generate higher margins.
The company's gross margin may fall slightly in fiscal 3Q17, as the lower-margin semi-custom chips would account for a major portion of the company's product mix. This margin could improve in fiscal 4Q17 as demand for higher-margin EPYC server processors and Vega GPUs pick up.
AMD's long-term gross margin target
AMD is shifting its product mix to premium products that have a higher margin. Earlier, AMD stated that its long-term gross margin target is 36%–40%. At the 2017 Financial Analyst Day, AMD's chief financial officer, Devinder Kumar, updated this target from 40% to 44% and gave a breakdown of the gross margin target.
He stated that the company expects to improve its gross margin from 31% in fiscal 2016 to more than 36% in fiscal 2018 and more than 40% in fiscal 2020.
Gross margin drivers
By the end of fiscal 2018, AMD would have launched its complete range of premium products across PCs, data center, and embedded markets. The company has also released a roadmap through 2020, indicating its commitment to stay in the high-end market.
These premium products together would account for more than 50% of the company's overall gross margin by 2020. Even if the overall PC or data center markets remain stagnant, AMD can increase its revenues and gross margin just by increasing its market share.
AMD's long-term gross margin target of 40% is still below its competitors' current gross margin of 60%. This shows that AMD could continue to offer competitive premium products at slightly lower prices than its rivals.