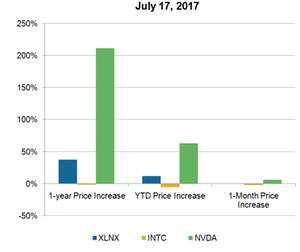 A Look at Xilinx's Stock Price Momentum
By Puja Tayal

Jul. 24 2017, Updated 8:06 a.m. ET
Xilinx outperforms the market 
In this series, we've seen that Xilinx (XLNX) has all the right tools to tap the future growth opportunity arising from 5G, parallel processing, and autonomous cars. It also has the financial flexibility to invest in long-term growth opportunities, which would drive its earnings in the future. This has increased optimism among investors.
In the last 12 months, XLNX stock price has risen 37.8%. XLNX outperformed the S&P 500 Index (SPY), which rose 13.5% during the same timeframe. The stock also outperformed its rival Intel (INTC), which fell 1.4% during the period. However, Xilinx could not beat the top-performing semiconductor stock, NVIDIA (NVDA), which rose 212.0% over the last 12 months.
Article continues below advertisement
Xilinx's stock price momentum in 2017
Since the start of 2017, XLNX stock rose 12% and is currently hovering around $66.00, which is on the higher end of its 52-week range of $47.53–$68.68. The stock price started its growth momentum after the company released strong fiscal 4Q17 earnings and guidance on April 26, 2017. The stock corrected in June, as investors were concerned over the valuation of technology stocks.
These concerns were alleviated in July when a report by the Semiconductor Industry Association stated that global semiconductor sales reported their strongest annual growth in more than six years in May 2017. A report by a Jefferies analyst also sent a positive message on Xilinx stock. We'll look at the Jeffries analysts' report in the next part of this series.
Insider trades
Company insiders cashed out on this stock price momentum. In 2Q17, insiders sold ~$4.9 million in XLNX stock, of which ~$1.6 million in stock was sold by Xilinx's CEO, Moshe Gavrielov, on April 27, 2017. 
Xilinx's chief financial officer, Lorenzo Flores, sold $640,224 in stock on June 2, 2017. Xilinx's general manager of global sales, Krishna Rangasayee, sold $973,350 in stock on May 8, 2017.
Institutional trading on XLNX
Investor optimism resulted in strong buying activity from institutional investors, which own 94.1% of Xilinx shares. Winslow Capital Management purchased $203.8 million of XLNX shares in 1Q17. Vanguard Group increased its holdings in Xilinx to ~$1.6 billion, and Pictet Asset Management increased its holdings to ~$53.7 million.