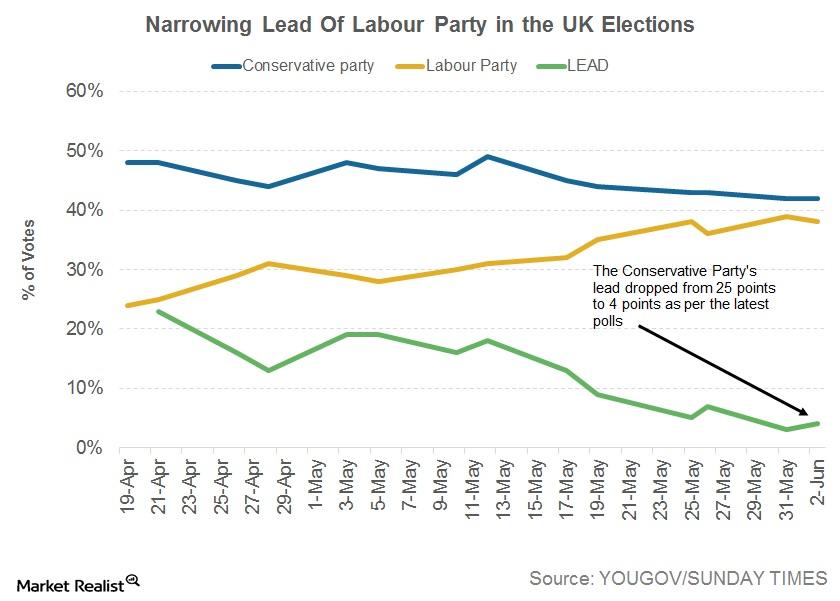 Will UK Elections Give the Markets Another Shock?
Britain braces for another possible election surprise
After the surprising Brexit vote last June, the United Kingdom is bracing for another possible election surprise on June 8, 2017, which we're calling Super Thursday. In an attempt to consolidate her party's majority position in the British Parliament and smooth the process of Brexit negotiations, Prime Minister Teresa May announced snap elections in mid-April. Her party's view was that if they could get a higher voting majority after the elections, of which they were confident at that time, they would be able to better negotiate the terms of the crucial Brexit.
Article continues below advertisement
Narrowing lead for Conservative Party worries investors
At the time Prime Minister May announced the snap UK elections, her Conservative Party was leading by 24 points over the Labour Party. The UK's FTSE Index (EWU) fell 2.5% on the day of the announcement but has since recovered since the Conservative Party continues to stay in the lead. The lead was accepted by the markets since it would lead to continued stability and smoother Brexit negotiations. But that lead has now narrowed to four points, according to a recent YouGov poll published on June 2.
A close poll may not be good for UK markets in the near term
The markets don't like uncertainty, which could lead to higher volatility (VXX). A close election has already made investors in the United Kingdom and Europe nervous about the outcome. A win for the Labour Party could be negative for British (VGK) and European equity markets (FEZ) since investors may not want to deal with the uncertainty of a new government's approach to the Brexit negotiations. The pound (FXB) could also be sold off if the election results end in disappointment. It will be a tense wait for the markets, and all that investors can do is to wait.
In the next part of this series, we'll look at what the ECB (European Central Bank) might do in its policy meeting on Super Thursday.