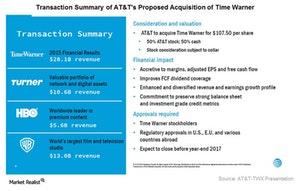 Why the AT&T–Time Warner Proposed Merger Still Faces Opposition
By Shirley Pelts

Updated
Senator opposes AT&T–Time Warner merger
AT&T's (T) proposed acquisition of Time Warner (TWX) continues to run into opposition. According to a Broadcasting & Cable report, citing a letter from U.S. Senator Susan Collins of Maine, the senator expects the proposed merger to have a "significant, negative impact on competition and innovation."
The report also said that while Collins didn't directly oppose the merger, she did ask the DOJ (United States Department of Justice) to carefully review the merger.
There have been concerns from the start that the merger could hamper competition, but AT&T has always maintained that it's a vertical integration for the company and as such is unlikely to affect competition in the media industry.
Currently, AT&T is struggling to attract customers in the wake of increasing competition from Sprint (S) and T-Mobile (TMUS). Its proposed acquisition of Time Warner could enable the company to diversify its revenues.
Article continues below advertisement
Why AT&T believes the merger is a vertical integration
AT&T believes the acquisition of Time Warner is a vertical integration since it would combine Time Warner's premium content with AT&T's distribution network, including its wireline, wireless, and pay-TV business.
AT&T also expects that its proposed merger with Time Warner will likely have less opposition since it believes that the regulatory environment has significantly improved over the past six months. The company also believes that TWX's business is less regulated compared to most of AT&T's traditional business activities.