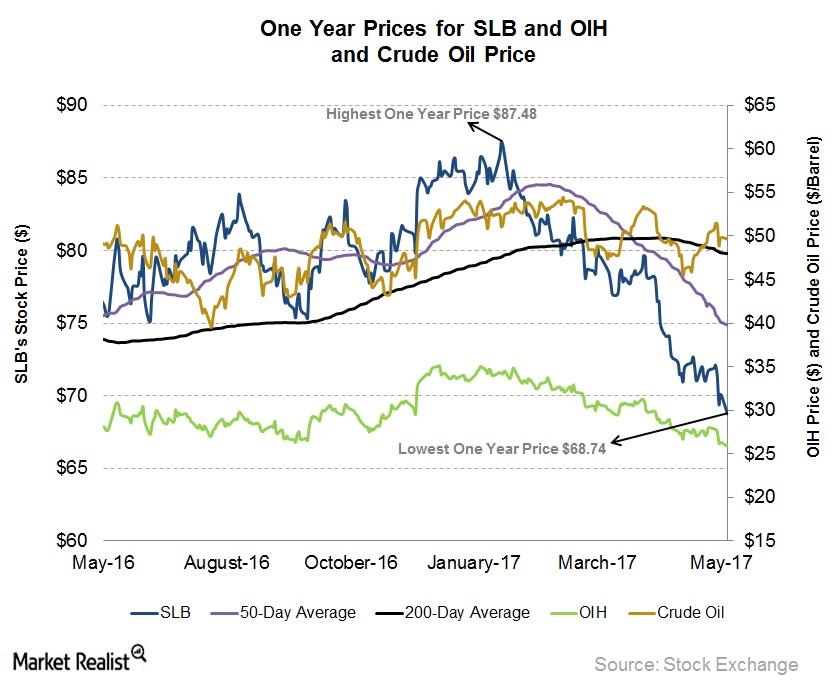 Why Schlumberger's Stock Price Is Bearish
Schlumberger versus its peers
So far, Schlumberger (SLB), the largest OFS (oilfield equipment and services) provider by market capitalization, had a sloppy run in the stock market in 2017. On May 30, 2017, Schlumberger was trading at $68.74, which was ~19% lower than its price at the beginning of 2017.
The VanEck Vectors Oil Services ETF (OIH), an ETF tracking index of 25 OFS companies, has fallen 24% YTD (year-to-date). Schlumberger accounts for 21% of OIH. The Dow Jones Industrial Average (DJIA-INDEX) has fallen 8.5% YTD. The energy sector makes up 6.1% of the DJIA-INDEX. Flotek Industries (FTK), Schlumberger's smaller market cap peer, rose ~6% during the same period. To learn about large OFS companies' fundamental drivers and valuation, read Weighing SLB, HAL, NOV, and WFT after 1Q17.
Article continues below advertisement
Schlumberger's stock price movement
In the past year, Schlumberger's stock price rose until January 2017. Schlumberger's revenue fell slowly in the four quarters leading up to 1Q17. Its net income improved in 1Q17—compared to the previous quarter. Schlumberger's free cash flow fell significantly over the past four quarters.
The West Texas Intermediate crude oil price has fallen 5% since the beginning of 2017. It posted a recovery in 2016. The fall partially explains Schlumberger's weak run in 2017. The strong crude oil inventory could continue to stall the recovery in crude oil prices. Lower crude oil prices can lead to lower energy production, which can have a negative impact on OFS companies like Schlumberger, Oil States International (OIS), and Oceaneering International (OII). To learn more, read OPEC's Exit Strategy and Saudi Arabia's Crude Oil Export Plans.
Schlumberger's moving averages
On May 30, 2017, Schlumberger's stock price was at an ~8% discount to its 50-day moving average. It's trading 14% below its 200-day moving average.
Moving averages show a smoother trend following the stock's price movement. A 50-day moving average is a short-term moving average, while a 200-day moving average shows a long-term trend. Schlumberger's stock price has fallen below its short-term moving average since the beginning of February 2017. Schlumberger's long-term moving average has also fallen below its short-term moving average in the past year, which indicates that Schlumberger stock is bearish.
In this series
In this series, we'll analyze why returns from Schlumberger's stock price have been relatively weak. We'll discuss Schlumberger's top line and bottom line growth, its balance sheet, free cash flow, and industry growth drivers in this series. In the next part, we'll discuss management's comments.