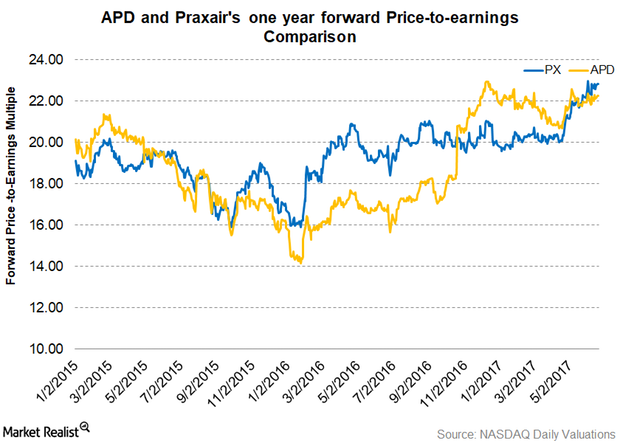 Why APD's Latest Valuations Matter
APD's forward PE
The forward PE ratio shows how much investors are paying for a stock for every dollar of expected earnings over the next 12-months. The valuation tool helps investors compare companies that are operating in the same industry and helps evaluate if the stock is overvalued or undervalued.
Article continues below advertisement
Which one to choose?
Both Praxair and Air Products and Chemicals compete in the industrial gases space and are trading at similar forward PE multiples, with Praxair marginally ahead of APD. As APD spun off its electronic materials division into Versum Materials (VSM), its adjusted earnings fiscal 2017 is expected to be in the range of $6.00–6.25.
However, now that APD is winning new business and long-term contracts, analysts are expecting its fiscal 2018 earnings to grow in the range of 9%–13% to ~$6.79 per share. Analysts expect Praxair to see a similar growth rate in its fiscal 2018 earnings.
Praxair and Linde
That said, with Praxair and Linde combining, Praxair would be trading at a marginal premium to APD. The merger is expected to be completed in the second half of fiscal 2018, and Praxair's fiscal 2018 earnings might get a boost of ~$1.2 billion in cost-saving synergies. Praxair will also likely have a stronger geographical foothold once the merger is completed.
Notably, investors can indirectly hold APD by investing in the Vanguard Materials ETF (VAW), which has 3.6% of its portfolio in APD. VAW's top holdings include Dow Chemical (DOW) and DuPont (DD), which had weights of 8.8% and 8.7%, respectively, in the fund on June 19, 2017.