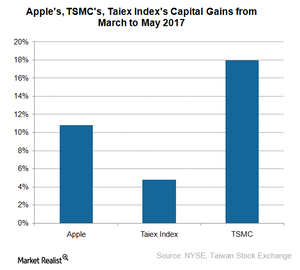 What's the Possibility of a Delay in Apple's iPhone 8 Launch?
A possible delay in iPhone 8 launch
Apple (AAPL) suppliers generally start production of iPhone components in July. However, this time, they started production a month before. According to the Taipei Economic Daily News, Kinsus Interconnect and Zhen Ding will start production of iPhone components in June 2017.
However, the early production ramp up doesn't seem to indicate an early launch of the iPhone 8. It seems like Apple has started preparing early in order to have sufficient channel inventory to meet the pent-up demand for the new iPhone.
Longbow Research analyst Shawn Harrison expects the mass production of iPhone OLED (Organic Light Emitting Diode) models to be delayed to the end of September or early October 2017 due to the complexity around the A11 processor, Touch ID (identification), and OLED display.
In LCD (liquid crystal diodes) display panels, 3D (three-dimensional) Touch solution bonds directly, but in OLED panels, the solution has to be bonded to both the front and back of the panel, which increases manufacturing costs and time.
However, Harrison is optimistic that the iPhone 8 demand will drive sales in fiscal 2018 and has thus increased the 12-month target price for Apple to $173. Increased optimism among analysts is driving Apple stock to new highs.
Article continues below advertisement
Article continues below advertisement
Suppliers' stocks rise over iPhone 8 anticipation
Apple is not the only stock that's rising. Its Taiwanese (EWT) suppliers—Taiwan Semiconductor Manufacturing (or TSMC) (TSM) and Hon Hai—are trading at record highs. Eight of the Taiwan Capitalization Weighted Stock Index's highest performing stocks in 2017 were Apple suppliers. The stock prices of these suppliers are increasing as analysts are upgrading their earnings expectations for these companies.
Institutional investors are also tapping the iPhone 8 opportunity. Investor Warren Buffett has purchased Apple stock. Investor Seth Klarman purchased new stakes worth $299.0 million and $493.0 million in Apple suppliers Qualcomm (QCOM) and Qorvo (QRVO), respectively, in 1Q17.
Apple's iPhone manufacturing is concentrated in Taiwan and China. The company is looking to increase its production efforts in the United States to support the Trump administration's America First agenda. We'll look at that in the next part.