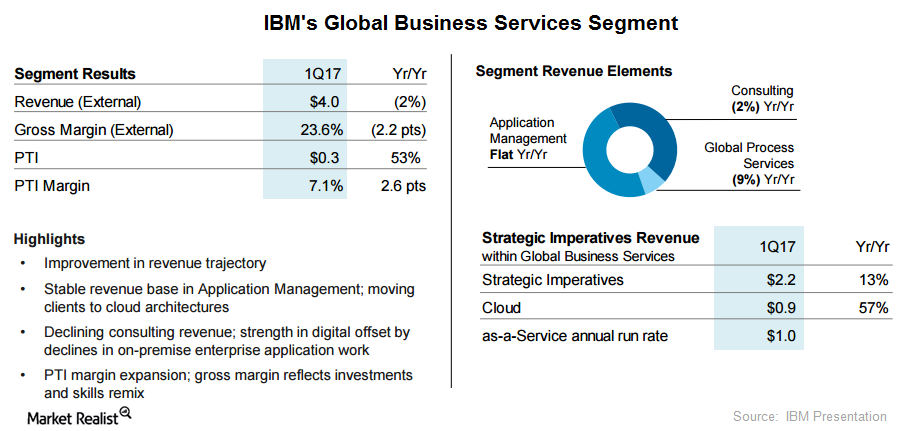 What's Stopping IBM's Global Business Services from Growing?
Continued growth in 1Q17
Let's take a look at how IBM's (IBM) Global Business Services (or GBS) segment performed in 1Q17.
The GBS segment's revenue fell 2% to $4.0 billion in the quarter. The segment encompasses consulting, global process services, and application management services. It provides customers with these services by integrating them with the company's offerings, including Watson, cloud, blockchain, and technology services.
Application management contributed ~47.5% to the GBS segment's revenue in 1Q17. The remaining ~45% and ~7.5% came from consulting and global process services, respectively.
Strategic imperatives revenue in the GBS segment rose 13% to $2.2 billion, while cloud revenue rose 57% to $900 million on a constant currency basis. Strategic imperatives, including digital practices, contributed more than 50% to the GBS segment's revenue in the quarter.
Article continues below advertisement
IBM's interactive experience business continues to grow
Interactive experience (or iX), part of IBM's GBS segment, has posted "good growth," according to the company. In 2016, IBM made several acquisitions, namely of Ecx.io, Aperto, Resource/Ammirati, Bluewolf Group, and Expert Personal Shopper, in order to boost its interactive experience business.
The migration of customers from big on-premises projects and models to the cloud system has led to a fall in IBM's traditional back office implementation business.