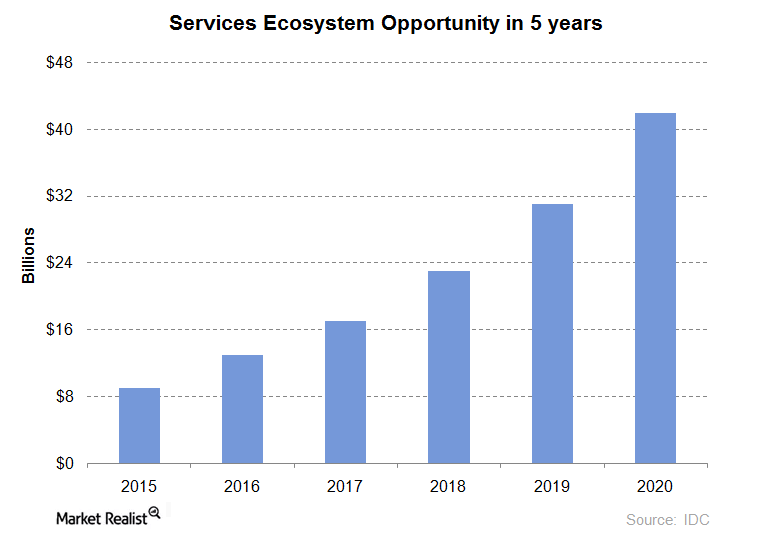 How IBM's iX Unit Could Get a Big Boost from Bluewolf Group
IBM's fourth acquisition in 2016
Previously in this series, we discussed IBM's (IBM) latest acquisition, Bluewolf Group, a leading Salesforce (CRM) consultant that will likely boost IBM's standing in the consulting and services space. After the Bluewolf acquisition is finalized, the company will become part of IBM's iX, or Interactive Experience, unit.
Bluewolf marks the fourth acquisition IBM has done in 2016 to augment its iX unit. Before Bluewolf, IBM announced acquisitions of Ecx.io, Aperto, and Resource/Ammirati—all in 2016 (see graph below). Bluewolf should complement the current design, analytics, and mobile capabilities of IBM's iX unit and develop deeper consulting services for customers interested in adopting Salesforce offerings.

Article continues below advertisement
Are Salesforce's partners now acquisition targets?
According to IDC's research published in October 2015, Salesforce's partners generate approximately $20 billion annual revenues, which is almost three times what Salesforce generates annually. For full fiscal 2016, Salesforce reported revenue of $6.67 billion. IDC research stated that the professional services value going through the ecosystem was 2.9x Salesforce's revenues in 2014, and it is expected to increase to 3.7x in 2018. In all, this adds up to an opportunity worth ~$135 billion during the next five years (see graph above).
This growth explains IBM's interest in acquiring Bluewolf, which is reeling under the pressure of no revenue growth. IBM is not the only company that is interested in acquiring Salesforce's partners. In 2015, Accenture (ACN) acquired two Salesforce partners, Tquila and Cloud Sherpas. Both the acquisitions enabled Accenture's Salesforce consultants to more than double in the UK (EWU) and opened access to ~3,200 certified Salesforce professionals.
Investors interested in gaining broad-based exposure to IBM might consider investing in the iShares US Technology ETF (IYW), which has an exposure of 46.7% to application software and invests about 12.5% of its holdings in IBM.
In the next part, we'll take a look at IBM's layoff strategy.