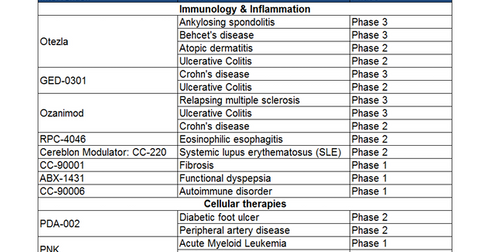 What's in Celgene's Immunology and Inflammation Clinical Pipeline?
By Daniel Collins

Updated
Immunology and inflammation pipeline trends
Celgene's (CELG) Ozanimod is a selective S1P 1 and S1P 5 modulator. Data from phase three trial SUNBEAM has demonstrated the efficacy and safety of Ozanimod as a treatment option for patients suffering from relapsing multiple sclerosis. In May 2017, Celgene (CELG) announced its success in the second pivotal (RADIANCE) phase three trial. The RADIANCE trial aimed to evaluate the safety and efficacy of Ozanimod in relapsing multiple sclerosis patients. The primary endpoint of the RADIANCE study was to reduce the annualized relapse rate (or ARR). Ozanimod demonstrated a significant reduction in ARR.
The company expects to start several pivotal trials in 2017. After the success of ozanimod in the STEPSTONE phase two trial, the company may begin phase three trials for the evaluation of the drug as a treatment for Crohn's disease.
The above table indicates Celgene's different ongoing trials in inflammation, immunology, and cellular therapies.
Article continues below advertisement
Inflammation and immunology clinical trials
After the success of Otezla in the marketplace, Celgene has started various other trials on the drug for label expansion in areas such as atopic dermatitis, ulcerative colitis, and ankylosing spondylitis.
Celgene has entered a strategic collaboration with Acceleron for the development of luspatercept. The drug is being investigated in phase three trials, MEDALIST and BELIEVE, to evaluate its efficacy as a therapy option for patients suffering from myelodysplastic syndromes and beta-thalassemia, respectively.
Celgene has started a pivotal trial to study investigational therapy GED-301 for Crohn's disease, while the phase two trial for the drug in ulcerative colitis indications is expected to conclude by mid-2017. The company anticipates that ozanimod and GED-301 may turn out to be future blockbuster drugs. Celgene's revenue growth may boost the share prices of the Vanguard Health Care ETF (VHT). Celgene makes up about 2.7% of VHT's total portfolio holdings.
Celgene's peers in the inflammation and immunology drug market include Johnson & Johnson (JNJ), Amgen (AMGN), AbbVie (ABBV), and Novartis.