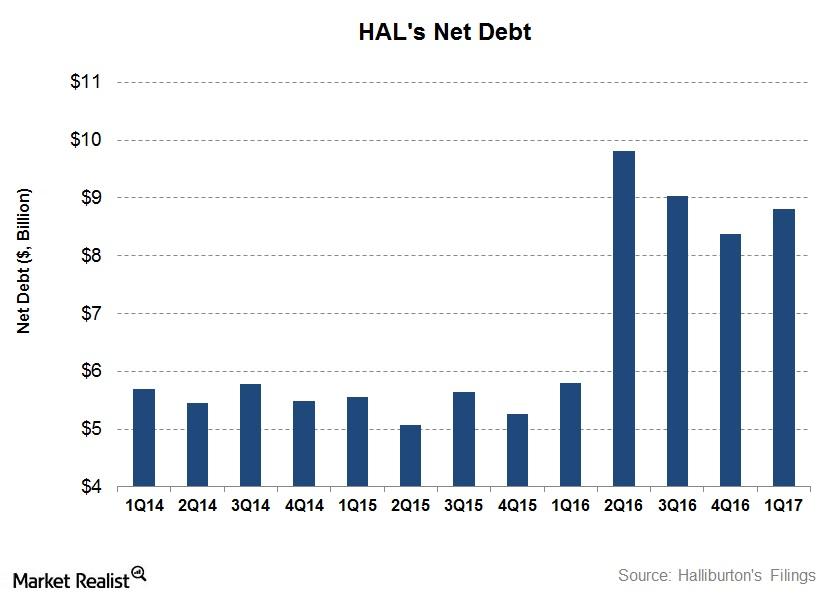 What's Happening to Halliburton's Net Debt?
Halliburton's net debt
In 1Q17, Halliburton's (HAL) total debt fell 29% compared to a year earlier, while its cash and marketable securities fell 78%. Net debt, in effect, rose 52% to ~$8.8 billion on March 31, 2017, compared to a year ago. Net debt is aggregate short-term and long-term debt less cash and marketable securities.
Article continues below advertisement
Is HAL's debt falling?
Halliburton has started to reduce its debt in 2017. In March 2017, HAL used cash on hand to redeem $1.4 billion of senior notes, which reduced HAL's debt and cash balance in 1Q17. In connection with debt repayment, HAL recorded $104 million in costs on redemption premium and a write-off of the remaining original debt issuance costs. This debt extinguishment charge reduced HAL's 1Q17 net earnings.
Net debt for HAL's peers
Halliburton's smaller market cap peer Fairmount Santrol Holdings' (FMSA) net debt by the end of 1Q17 was $634 million. McDermott International's (MDR) net debt was $142 million on March 31, 2017. Halliburton makes up 2.4% of the iShares North American Natural Resources ETF (IGE). Since March 31, 2017, IGE has fallen 6% compared to a 9% decline in HAL's stock price.
Halliburton's indebtedness
Halliburton's net debt to adjusted trailing-12-month EBITDA shot up from 1Q16 through 1Q17. In 1Q17, Halliburton's net-debt-to-adjusted-EBITDA multiple was ~3.9x, or 204% higher than a year ago. Higher net debt coupled with lower EBITDA led to higher indebtedness in 1Q17.
Next, we'll discuss Halliburton's free cash flows.