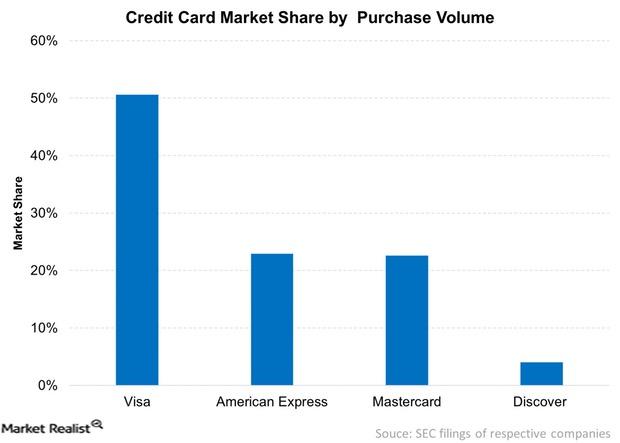 How Visa Created a Network Effect
VanEck
Visa (V US) is a great example of how the network effect creates powerful competitive advantages for companies in the electronic payments industry. Visa (V US) dominates the global market, controlling a little more than half of all credit card transactions and an even higher portion of debit card activity. Morningstar has given Visa a wide moat rating and writes: "As consumer spending around the world grows and digital methods continue to take share from cash, Visa should continue to flourish for years to come as an effective toll booth on global spending. Visa has been coordinating the interaction of banks, consumers, and merchants for decades. Its effective network consists of 16,800 financial institutions, 44 million merchants, and billions of cards issued to customers around the world. This creates a formidable barrier to entry."
Market Realist
Visa (V) boasts a significant advantage in terms of its worldwide acceptance. This availability lent to the network effect's being the source of the company's moat (MOAT). As more and more buyers use credit or debit cards, more merchants are likely to accept them.
On the other hand, Discover and Amex have payment facilitation businesses while they also issue cards directly to consumers, unlike Visa and Mastercard (MA).
As the graph above shows, Visa is the clear leader in the payment facilitation business, with 50.6% of market share in the credit card segment as of 2016. American Express (AXP) has overtaken Mastercard for the second-place spot with 22.9% of market share compared to Mastercard's 22.6%.
Visa's market share has risen from 44.3% in 2012 to 50.6% at current. Visa's dominance in the sector means that more merchants are willing to accept it as more consumers use it, creating a network effect.
Article continues below advertisement
Article continues below advertisement