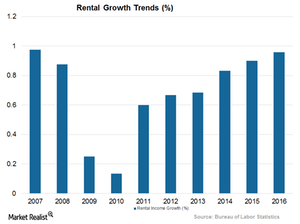 The Impact of Trump's Proposed 2018 Budget on Residential REITs
President Trump's budget
According to President Trump's proposed budget for fiscal 2018, the administration is expected to slash $6 million from the U.S. Department of Housing and Urban Development (or HUD) budget, decreasing HUD's funding by 13.2% to $40.7 billion.
According to a release by HUD, it plans to implement these cuts through reducing rental assistance. HUD also plans to eliminate some programs related to the construction of affordable housing, financial assistance to renters, landlord subsidies, and public housing projects.
Article continues below advertisement
Article continues below advertisement
Proposed budget affects affordability of renters
The budget aims at optimizing federal funds and improving the efficiency of HUD. Market analysts note that if the proposed budget is implemented, it could decrease the affordability for borrowers who fall below the poverty level—families whose annual income a less than 30% of the area's median income.
According to the National Low Income Housing Coalition (or NLIHC), there's already a shortage of affordable housing for people who fall below this income group. Moreover, many income groups who do not belong to these low-income groups occupy affordable housing subsidized by the government.
The survey by NLIHC concludes that some renters in the US are subject to financial constraints due to a shortage of available affordable housing. More than 70% of extremely low-income households spend more than 50% of their income on housing.
Is the 2018 budget a blessing for residential REITs?
Residential REITs such as AvalonBay Communities (AVB) are involved in philanthropic activities, and they build affordable housing throughout the country. AVB partners with Arlington Partnership for Affordable Housing (or APAH).
During 2016, AvalonBay completed the sale of an affordable apartment building, which comprises 77 apartment homes situated near one of the company's development communities. The proceeds from the sale were received in the form of mortgage notes.
The reduced funding for affordable housing could eventually raise rental rates, which are already on the higher side. However, these rents have moderated somewhat in 2016.
High-income tenants who occupy affordable homes would have to rent houses through landlords like AvalonBay, Equity Residential (EQR), UDR (UDR), Essex Property (ESS), and GGP (GGP), which is expected to boost their revenues.
AvalonBay constitutes 9% of the iShares Trust – iShares Residential Real Estate Capped ETF (REZ). The ETF has a market cap–weighted index that covers a variety of industries such as healthcare, self-storage, and residential REITs.
In the next article, we'll see how the rising consumer sentiment affects residential REITs.