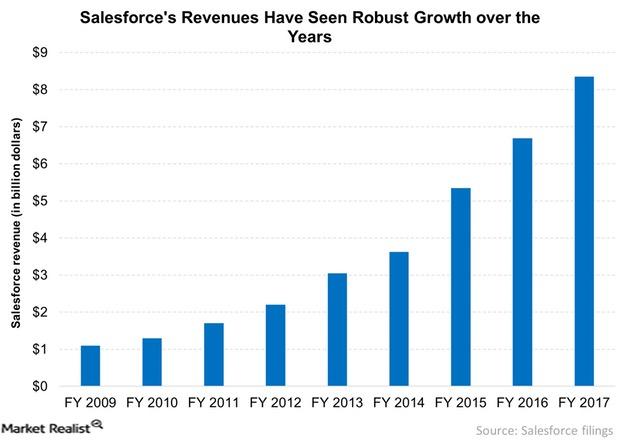 How Salesforce Gained Its Moat
Article continues below advertisement
Article continues below advertisement
The Network Effect in Action: Four Case Studies of Moat Companies
Within the technology sector, two moat-rated companies standout as beneficiaries of the network effect: Salesforce.com and Microsoft. We also highlight credit card firm Visa from the payments industry and London Stock Exchange Group within the financial exchanges industry.
Salesforce.com (CRM US) currently holds a "wide moat" rating from Morningstar, based on the firm's unique software lineup that offers customer relationship management tools. Salesforce.com is also the largest pure-play software-as-a-service company in the world by many multiples. Writes Morningstar: "We think the combination of the mission-critical applications Salesforce offers, the ubiquity of its products in the enterprise, and increasingly valuable data generated by these applications yields substantial customer switching costs and a network effect that support one of the widest economic moats in software. Between its sales and service cloud offerings, Salesforce has quickly become the dominant vendor in the customer relationship management vertical."
Salesforce.com (CRM) is a leader in the customer relationship management (or CRM) industry. The company has built its moat (MOAT) on the back of its network effect and strong brand. Its customer retention is high because of its high switching costs. Its size has allowed it to gain a wide range of services.
That said, CRM is a very competitive industry, which is a threat to Salesforce's moat. However, the high prices on the company's long-term contracts are encouraging signs for investors.
Salesforce was one of the early birds in the CRM industry, and its good timing helped it to build a lead. Salesforce remains the leader in the CRM market with a share of 19.7%. SAP (SAP) follows with a market share of 10.2%. Because Microsoft (MSFT) has taken over LinkedIn (LNKD), Salesforce could soon face even stiffer competition in the CRM space.
As the graph above shows, Salesforce's revenue has risen exponentially. Between fiscal and 2017, its revenue has risen almost 29% on a CAGR (compound annual growth rate) basis.