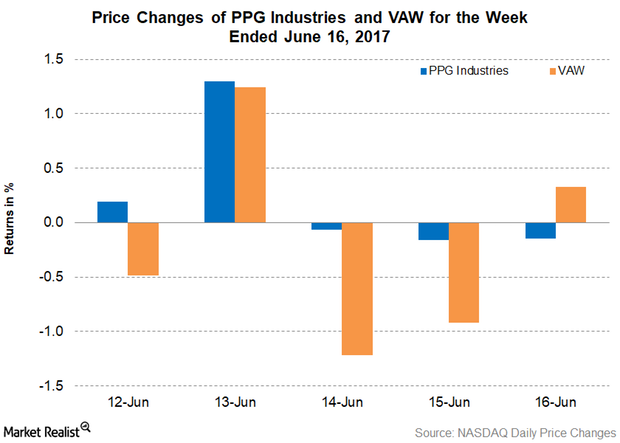 PPG Industries Expands Coatings Capacity with New Plant in Russia
PPG Industries expands
On June 16, PPG Industries (PPG) announced the completion of its 45-million-euro paint and coatings facility in Russia's Lipetsk region. The facility is commercially operational and can produce approximately 25 million liters of coatings at full capacity. The new facility will cater to the needs of the automotive, industrial, packaging, and protective and marine industries.
The impact of the new facility on the company's earnings will likely be visible starting in 3Q17. Jean-Marie Greindl, PPG senior vice president of global architectural coatings and president of PPG EMEA, said, "PPG's investment in this facility further demonstrates our commitment to better serve our existing customers in Russia and Eastern Europe, and to expand our presence in the Europe, Middle East, and Africa (or EMEA) region."
Article continues below advertisement
PPG's stock performance for the week ended June 16
PPG remained positive for the week ended June 16, 2017, with a gain of 1.1%. The stock closed at $111.16. PPG outperformed peers Sherwin-Williams (SHW), RPM International (RPM), and Axalta (AXTA), which returned -0.7%, 0.05%, and 0.5%, respectively. On a year-to-date basis, the stock has returned 18.2%. PPG stock traded 5.9% above its 100-day moving average price of $104.98. PPG's 52-week low is $89.64, while its 52-week high is $113.49.
PPG's RSI (relative strength index) stood at 63, which indicates that the stock is neither overbought nor oversold. An RSI of 70 and above indicates that the stock is overbought while an RSI of 30 and below indicates that the stock is oversold. Analysts expect a 12-month price target of $114.69, implying a potential return of 3.2% based on the closing price on June 16, 2017.
Investors can invest in the Vanguard Materials ETF (VAW) to hold PPG industries indirectly. PPG makes up 3.5% of VAW's portfolio as of June 16, 2017.