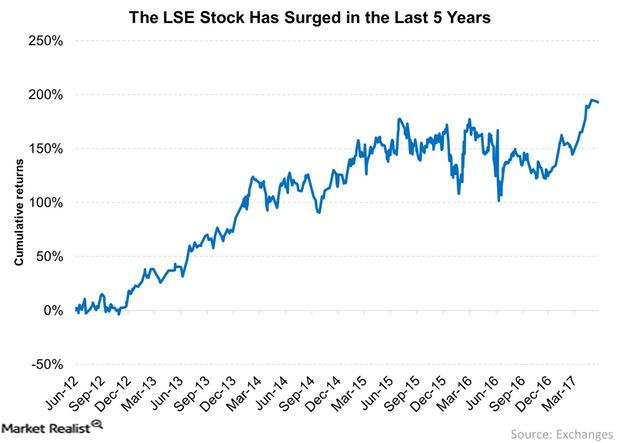 Why LSE Stock Has Outperformed over the Years
VanEck
London Stock Exchange Group (LSE LN) has undergone a major transformation in the past five years and has evolved from a small to a top player among exchanges. London Stock Exchange Group boasts one of the most attractive business mixes in the exchange industry, and now generate the bulk of its earnings from its clearing businesses and its FTSE Russell index business. According to Morningstar, "With the firm's pivot toward its information services and clearing segments, its sources of competitive advantage stem from intangible assets, network effects, and cost advantage. LCH Clearnet and CC&G, the Group's two clearing companies, enjoy the benefit of network effects, while the information services business has substantial intangible brand assets. Due to the volume and size of London Stock Exchange's operations, the company also enjoys the competitive benefits of spreading its predominantly fixed cost base throughout its numerous IT-heavy segments."
Article continues below advertisement
VanEck Vectors® Morningstar Wide Moat ETF (MOAT®) and VanEck Vectors® Morningstar International Moat ETF (MOTI®) provide access to global moat-rated companies, by seeking to track the Morningstar®Wide Moat Focus IndexSM and Morningstar® Global ex-US Moat Focus IndexSM, respectively. Each index measures the overall performance of attractively priced companies with sustainable competitive advantages in their respective markets according to Morningstar's equity research team.
The London Stock Exchange's (or LSE) (LDNXF) high market share in growth areas such as client clearing, along with its good asset quality, suggest that the stock exchange is on solid ground. The LSE's liquidity encourages other investors to join, leading to more liquidity. This has lead to its source of moat (MOAT) (MOTI) being the network effect.
As the chart above shows, the LSE's shares have galloped over the last five years. It's returned a whopping 193% over the period, a 24% return on a CAGR (compound annual growth rate) basis.