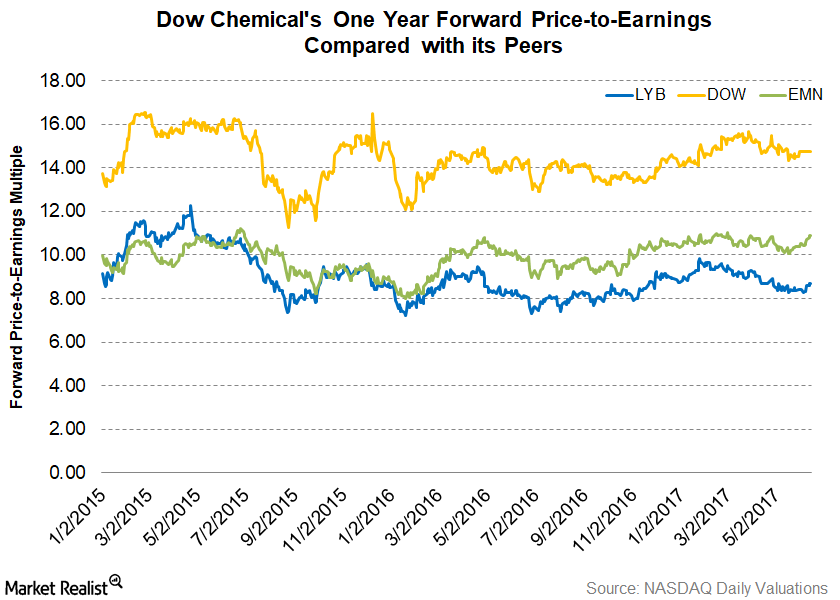 Dow Chemical's Latest Valuations
DOW's forward PE ratio
A forward PE (price-to-earnings) ratio is a relative valuation method that looks at a company's future earnings. As of June 13, 2017, Dow Chemical (DOW) was trading at a one-year forward PE ratio of 14.70x. The one-year forward PE ratios for Eastman Chemical (EMN) and LyondellBasell (LYB) are 10.9x and 8.7x, respectively.
The forward PE ratio tells how much investors are paying for a stock for every dollar of expected earnings in the next 12 months. It's one of the most popular valuation tools and helps investors compare two or more companies that operate in the same industry. It's one of the tools that helps check which stocks are overvalued or undervalued.
Article continues below advertisement
Article continues below advertisement
Why is Dow Chemical trading at a premium?
Currently, Dow Chemical is trading at a premium compared to its peers Eastman Chemical and LyondellBasell. Dow Chemical posted better-than-expected 1Q17 earnings. After revenues fell in 2015 and 2016, DOW's revenue is now expected to rise in 2017 and 2018. Analysts are expecting DOW to post revenues of $53.8 billion in 2017 and $55.82 billion in 2018.
With DOW receiving conditional approval from the European Union, China, and Brazil, the merger with DuPont (DD) is now more or less expected to go through. The merger is expected to bring approximately $3.0 billion in cost synergies. The synergies from the integration of the Corning business will be more visible in 2017. Factoring in all these things, analysts are expecting DOW's EPS (earnings per share) to be $4.07 in 2017 and $4.42 in 2018. With DOW's future earnings growth looking more stable, investors appear to be paying a premium for DOW compared to its peers.
You can hold Dow Chemical indirectly by investing in the Vanguard Materials ETF (VAW). VAW has invested 8.5% of its holdings in Dow Chemical as of June 13, 2017.