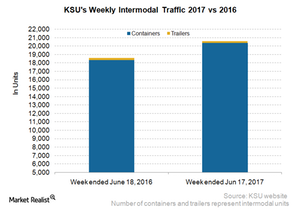 Kansas City Southern's Containers Rose, Trailers Fell in Week 24
KSU's intermodal traffic
In week 24 of 2017, Kansas City Southern (KSU) saw its overall intermodal volumes rise 10.6%, unlike in the previous two weeks. In the week ended June 17, 2017, KSU hauled 20,600 railcars, compared to 19,500 railcars in the week ended June 18, 2016.
The company's containers saw a volume rise, unlike its trailers, which reported a 17.5% fall in volumes in week 24. Its container volumes rose 11% on a YoY (year-over-year) basis to over 20,000 units, compared to over 18,000 units in week 24 of 2016.
KSU, the smallest Class I railroad company in the United States, reported higher growth in intermodal volumes than the combined 4.3% rise recorded by US railroad companies. When compared to the 10% rise in Mexican railroad companies' intermodal volumes, KSU's rise in the same category was at par.
Article continues below advertisement
Article continues below advertisement
KSU's intermodal outlook
In 1Q17, Kansas City Southern reported a 2% fall in intermodal revenue and a 1% fall in intermodal volumes. The company expects weakness in its intermodal volumes in 2Q17. However, the cross-border interchange is expected to see strong auto parts volumes in the rest of 2017. Plus, the new BNSF (BRK-B) cross-border intermodal service and functioning APM Terminals should lift volumes in the remainder of 2017.
With all that said, stiff competition due to trucking and Mexican currency headwinds could spoil intermodal volume growth for KSU in 2H17. Kansas City Southern de Mexico (or KCSM) faces strong competition from truckload companies. KCSM's intermodal segment rivals Landstar System (LSTR), Trinity Logistics, and ByExpress Logistics.
ETF investments
Investors opting for indirect exposure to the transportation sector may want to consider investing in the Guggenheim S&P 500 Equal Weight ETF (RSP). All US-originated Class I railroad companies (UNP) are included in RSP's portfolio holdings.
In the next article, we'll take stock of Canadian National's (CNI) railcar volumes in week 24.