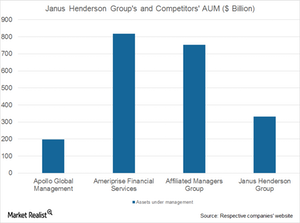 Janus-Henderson Merger: The Wait Is Over
<p>The merger of Janus Capital Group (JNS) and Henderson Group (HGG), announced in late 2016, was finalized on May 30, 2017. It&#8217;s said to be a merger of equals.</p>
Enhancing global reach
The merger of Janus Capital Group (JNS) and Henderson Group (HGG) was announced in late 2016 and finalized on May 30, 2017. The merged entity is called Janus Henderson Group (JHG). The combined entity is now a global active asset manager with AUM (assets under management) of more than $331.0 billion. Its combined market cap (capitalization) has reached around $6.0 billion. Henderson acquired Janus Capital for about $2.6 billion. Alternative asset managers (XLF) such as Affiliated Managers Group, Ameriprise Financial Services, and Apollo Global Management have the following market caps:
Article continues below advertisement
Article continues below advertisement
The merger has enhanced the global reach by combining Janus's strengths and Henderson's strengths in the United States and the United Kingdom, respectively. Henderson's listing on the Australian Securities Exchange continues, and the combined entity has been listed on the NYSE (New York Stock Exchange). With distribution capabilities and global investments, Janus and Henderson have multiple opportunities to cross-sell and broaden the client base. Because of the merger, Janus and Henderson Group have now become the global asset manager with a strong position in the United Kingdom, the United States, Australia, Japan, and Europe.
About Janus Capital
Janus Capital was a global investment firm that aimed to deliver better results for its clients through various investment solutions, including equity, fixed income, and multi- and alternative-asset class strategies. Through this complete package of investment solutions, Janus Capital, which was a global investment firm, aimed to deliver better results for its clients. With the help of exchange-traded products and separately managed accounts, it offered investment strategies. As of March 31, 2017, it had ETN assets and AUM of $204.7 billion.
About Henderson Group
Managing a variety of investment products for retail and institutional investors, Henderson Group specializes in active investments. These investment products have been managed across five capabilities; namely, global equities, European equities, global fixed income, multi-asset and alternatives including property and private equity. The company currently runs its business in the United Kingdom, Australia, Asia, and the EMEA (Europe, the Middle East, and Africa).