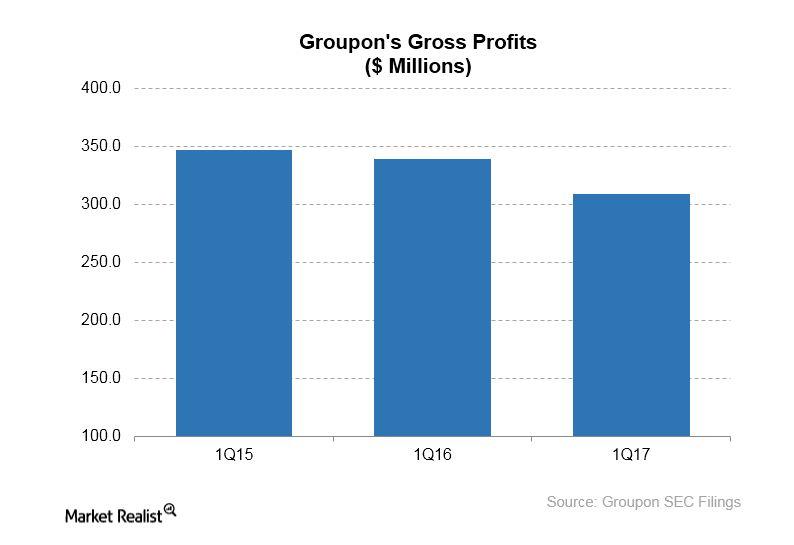 Inside Groupon International: After the Restructuring
Operation disposition in 11 countries
Following an unsuccessful international expansion, Groupon (GRPN) has pulled out of challenging overseas markets to pursue a narrowed strategic focus on North America. The company announced in 1Q17 that, as of March 31, 2017, it had completed the disposition of its operations in 11 countries. As a result, the company has reported activities in those countries as discontinued operations.
Although Groupon has narrowed its focus to prioritize growth in North America, the company still maintains an international footprint. The company finished 1Q17 with 16.7 million international active customers, implying no growth from the prior quarter.
Article continues below advertisement
International gross profit shrinks 15%
Groupon's 1Q17 earnings report also showed international operations to be a continual drag on the company's financial performance. International gross profit shrank 15.0% to $88.5 million, and the international hit pulled the company's overall gross profit down 3.0% to $309.5 million.
The recent drop in international gross profits stemmed from what the management described as execution challenges and its exits from certain countries.
Turning around overseas business
Groupon's low-margin Goods category was the greatest casualty of its international downscaling. The International Goods gross profit plunged 31.0%, as compared to the 4.0% and 9.0% declines for Local and Travel, respectively.
While 1Q17 presented an enormous challenge to Groupon abroad, the company has stated that it's still hoping for its international business to improve in coming quarters. Notably, Groupon is pulling away from international markets at a time when rival e-commerce operators such as Alibaba (BABA), Amazon.com (AMZN), eBay (EBAY) and Wal-Mart Stores (WMT) are stepping up their quests for overseas growth.