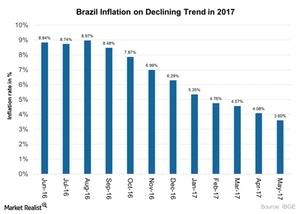 Inflation in Brazil Declined in May 2017
Inflation in Brazil
Inflation in Brazil (BRZU) continued its decline in May 2017, standing 1% below the central bank's target of 4.5%. Brazil's inflation has been declining in 2017, which led the Central Bank of Brazil to slash interest rates from 11.25% to 10.25% in May 2017.
Brazil's (EWZ) (UBR) economy has shown signs of improvement in 2017 with increased economic activity in 1Q17. The manufacturing sector and exports have consistently improved compared with the political climate, which has continued to deteriorate in 2017. The chart below illustrates the country's inflation rate over the last year.
Article continues below advertisement
Article continues below advertisement
Inflation in May 2017
Inflation in Brazil (FBZ) stood at 3.6% year-over-year in May 2017, compared to ~4.1% in April 2017. The country's inflation rate in May 2017 fell below market expectations of ~3.8%, posting the lowest inflation rate since May 2007.
The rise in the cost of food and beverages was the lowest since January 2007 compared to prices for housing and utilities, transportation, and clothing. The country's inflation rate has decelerated for ten consecutive months due to the moderate economic recovery, which has kept prices low in 2017 year-to-date.
Softer pace of monetary easing expected in 2017
A softer pace of the rate-cutting cycle is expected in 2017 since inflation development remains favorable around the central bank's target. The increased uncertainty regarding the slower implementation of these reforms and adjustments amid the political turbulence could keep its monetary easing stance on passive footing for the rest of 2017.
Expectations
According to the Central Bank of Brazil, the inflation rate in Brazil on an annual basis could fall below its target rate of 4.5% by the end of 2017. With lower interest rates, the Central Bank of Brazil is expected to stimulate consumption, which could boost Brazil's (BRAQ) economic growth in 2017.
In our next article, we'll look at the trade surplus in Brazil.