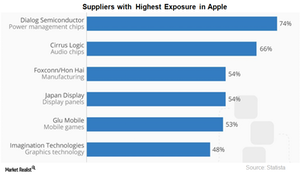 How Suppliers Are Reacting to Apple's Dual-Sourcing Strategy
Apple's dual-sourcing strategy
Apple (AAPL) sources its components from at least two suppliers in order to reduce risk and have negotiation strength. In 2016, the company used this dual-sourcing strategy for cellular modems. It sourced 30.0% of its modems for iPhones from Intel (INTC) and the remaining 70.0% from Qualcomm (QCOM). Before that, Qualcomm was Apple's only modem supplier.
Article continues below advertisement
Article continues below advertisement
Apple's motion sensor suppliers
In May 2017, Apple decided to source its motion sensors from InvenSense and Robert Bosch, according to a Bloomberg report citing sources familiar with the matter. Earlier, InvenSense was the sole supplier of motion sensors—gyroscopes and accelerometers—for iPhones. The supplier earned 60.0% of its revenue from Apple, according to a Bloomberg supply chain analysis.
Bloomberg sources are now saying that Apple might source 50.0% of its motor sensor requirement from Robert Bosch, which already supplies barometric pressure sensors for iPhones.
Robert Bosch's exposure to Apple would increase, and of course, InvenSense's exposure would decrease.
Suppliers are reducing dependence on Apple
Apple is sourcing its components from multiple suppliers in order to reduce its dependence on a single supplier. And suppliers are diversifying to reduce their dependence on Apple.
TDK, which has a high exposure to Apple, recently acquired InvenSense for $1.3 billion. With this acquisition, TDK is looking to expand in high-growth areas such as self-driving cars, drones, and IoT (Internet of Things).
Article continues below advertisement
STMicroelectronics was once the sole supplier of accelerometers, gyroscopes, and motion sensors for the iPhone, the iPad, and the iPod touch devices. In an interview with CNBC, STMicroelectronics (STM) chief executive Carlo Bozotti said that the company diversified its offering into the automotive and IoT spaces to reduce the risk of possible withdrawals of Apple orders.
Apple withdraws orders from suppliers that heavily depend on it 
Suppliers are increasingly reducing their exposure to Apple after the company withdrew its order from Imagination Technologies and Dialog Semiconductor.
GPU (graphics processing unit) supplier Imagination Technologies earns 50.0% of its revenue from Apple. Such a heavy dependence on one customer puts the supplier at risk and gives the customer more negotiating power to dictate contract terms and conditions. When Apple decided to bring GPU development in-house in the next two years, Imagination Technologies stock fell 70.0% in one day.
Some analysts believe Apple's power management chip supplier Dialog is next. The analyst report recently saw Dialog stock fall 20.0%. Next, let's take a look at other component suppliers and how their stocks are reacting to Apple's news.